Every buyer of a product or service has a process that they must go through before deciding on which vendor they want to purchase from. Senior living is no different. In fact, the senior living buyer's journey can be longer, more in-depth, and even have multiple buyer personas involved: i.e. the senior or the "adult child." Now more than ever it's important to match the content that you're showing to your prospect with their stage in this buying process. Below are some tips on how you can create different types of senior living content marketing to match the phase that your prospect is in inside their buyer's journey.
According to an article in Washington Post ,the number of retiring baby boomers is about 10,000 per day or 4 million per year. This number has a significant impact on the Social Security and Medicare systems. But what does it mean for the senior housing industry? Is your retirement community ready to connect with these baby boomers and increase move-in rates?
"By 2020, 80% of the buying process is expected to occur without any direct human-to-human interaction."
How can senior living communities reach out to the baby boomers?
The demand for assisted living and nursing care at this time is certainly high, but many senior living communities still do not seem able to fill up their vacancies. In Q4 of 2016, occupancy rates for assisted living dropped to 87.6%. According to this Washington Post article, one of the reasons for this is the lure of urban condo life, which many boomers are choosing over traditional retirement communities. Another reason is the stiff competition among senior living communities considering the plethora of housing options available in the market. How can your senior living community compete against the other housing options?
One-third of baby boomers searching for a retirement community usually decide to move in within a month. Another 33% move in within six months. Hence, communities only have a short time to capture leads and convert them to buyers. Email marketing, social media display ads or pay-per-click ads may be used to capture leads. But understanding your target audience is critical to moving your Baby Boomer audience through your sales funnel. Be sure that the content you publish and distribute address their needs and concerns.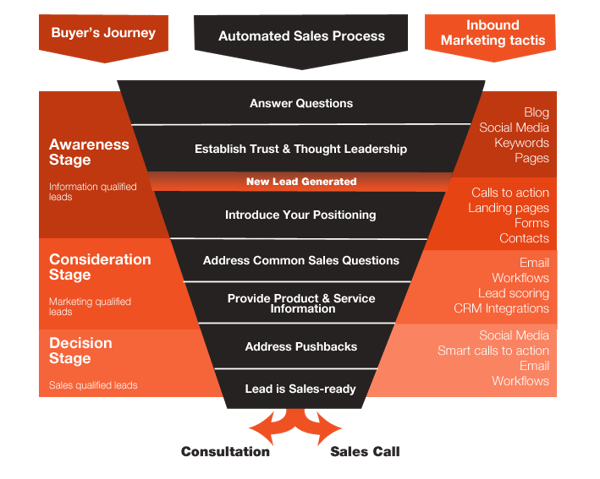 *This graph illustrates the buyer's journey. Each phase: Awareness, consideration, and decision are all marketed by different content and tactics that match whichever phase your prospect is in.
Aligning Your Content: Senior living Buyer's Journey
Whatever content you create, including articles, pictures and even your call-to-action, you need to align it to your senior living buyer's journey. Doing so will allow you to address the needs of a baby boomer, whether he's just beginning his search for a community or he's toured different communities already or he's about to choose a community. If you can deliver the right message at the right time, you can expect to see boomers begin to fill your community vacancy.
Take note of the stage that a baby boomer is in and tailor your marketing efforts to meeting the needs you see. He might be in the Awareness, Evaluation or Decision stage.
Growing Awareness
Baby boomers begin to explore retirement options in the awareness stage. It doesn't begin just because a person retired. Some life-changing event may prompt the interest to move into a retirement community. Maybe a friend, a loved one or he himself experienced other life-changing events – the loss of a spouse or diagnosis of a health condition.
When creating content, don't speak to all boomers in general. Qualify your website visitors by creating content that speaks about what your senior living community can specifically offer them. For example, if you provide aging in place option, then talk about the onsite memory care available in your community. Even if the housing and care you offer cost higher, you can attract the boomers that need your service and will willingly pay the price for it.
Don't forget to invite your website visitors to learn more about your community by signing up for an on-site tour or a meeting with a community coordinator.
"72% of buyers turn to Google during awareness stage research; 70% return to Google in consideration stage research."
- (Pardot)
Evaluating Communities
Baby boomers in this stage probably have already shown interest in your retirement community and a couple of others. That's why they've already read various blogs and articles on retirement living and toured several communities. But they are not yet ready to decide. They're still searching and evaluating options.
At this point, your job is to make sure they don't forget about your community. Here's where email marketing comes in. By sending to your prospect short but compelling messages about your community like important events, you remind your lead to consider your community as an option when decision time comes.
Decision Time
The last stage is when the baby boomer comes close to making a decision. You may be tempted to provide more persuasive information about your community, but it is better not to give another sales pitch. Instead, share testimonies of community residents which would benefit the baby boomer. For instance, share how a resident benefited from the services of onsite professional healthcare.
Now you have some ideas on how to align your marketing content to the stage of your senior buyer's journey. Do what you should to fill up the vacancy in your community.