Strong search engine optimization is the best way to get your senior living community found in local search results online. When people who are in your area or interested in moving to your area search for senior living communities, what do they find? If it isn't your community, you need to do some work on your SEO. These basics of SEO for senior living communities will help you get started.
A.) Target Location-Based Keywords
Think about the keywords that someone might use to search for your website. "Senior living community in [your city]" is the most obvious, but what other keywords are relevant? "Senior housing," for example, will reach a different set of searchers however may be too broad of a term for you to have the opportunity to rank for. The best keywords to target take into account both local search volume as well as competition. You'll want to pick target terms that have a decent amount of search volume however are not so difficult to rank for that you'll never make it to the first page of Google. There are many tools that can help you pick the best terms. Tools like Google's keyword planner or KeywordTool.io are great places to start. Take note of the keywords that are bringing visitors to your site - especially the ones that lead to further contacts for more information or a new member of your community. And make sure that you continue to maximize exposure for those specific keywords. Using keyword tools is a great way to expand your reach and keep an eye on the changing search trends in the senior living industry.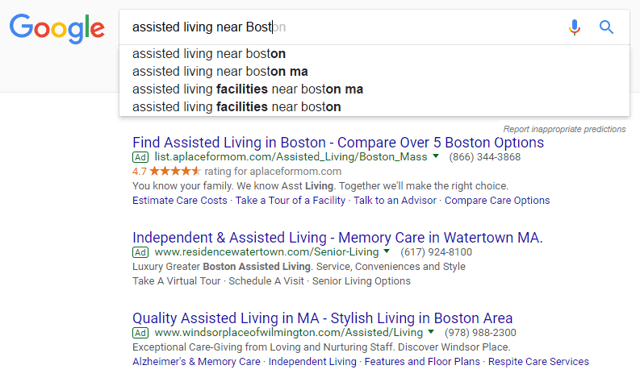 Examples of a localized search auto-filling possible search queries. All searches that you'll want your community to rank for in your local city or town.
B.) Optimize for "NAP" (Name, Address, Phone Number)
As a senior living community, your geographic location is very important. If you're in Georgia, it does you no good to bring in traffic from Rhode Island unless they're interested in moving south for their golden years! Make sure that you're listed and verified in Google's My Business page and other local listing sites. And also importantly make sure that your "NAP" (Name, Address, and Phone Number) are listed in the footer of your website. Make sure that the NAP is EXACTLY the same as it appears in your local directory listings. By having the exact same contact info in both the footer of every page of your website and your local directory listings search engines are able to better identify and rank your site for your city or town. These simple steps can go a long way toward increasing your search engine ranking for localozed searches.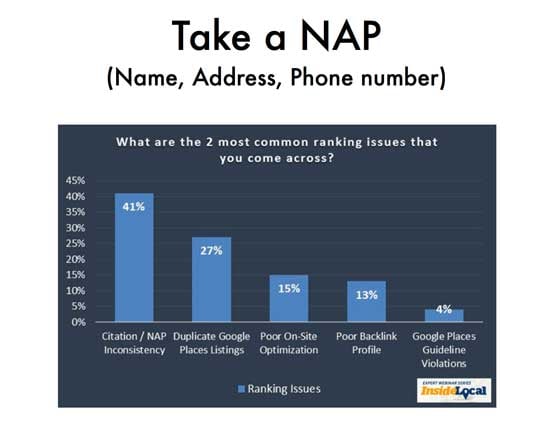 Inconsistent NAP is one of the most common issues that effect your website's local ranking.
C.) Get Some Postive Reviews!
Getting reviews are one of the best ways to quickly improve your SEO. Encourage happy residents of your community to leave you great reviews so that when people search for your community, they're able to learn more about what other people think. Many searchers also rate online reviews from real people as being just as relevant to their decision-making process as reviews from people they've met in person!
"88% Of Consumers Trust Online Reviews As Much As Personal Recommendations"
- BrightLocal Study
This is an initiative that needs to happen at the community level and one that you can train your staff to implement. Whenever you know you have a happy resident (or adult child of a resident) send them a friendly templated email asking for a positive review on your Google Business Page, Yelp Page, or other site of your choosing. Google Business in one of the most important in our opinion as it helps to produce the star rating and image of your community in search results (once you have over 5 reviews).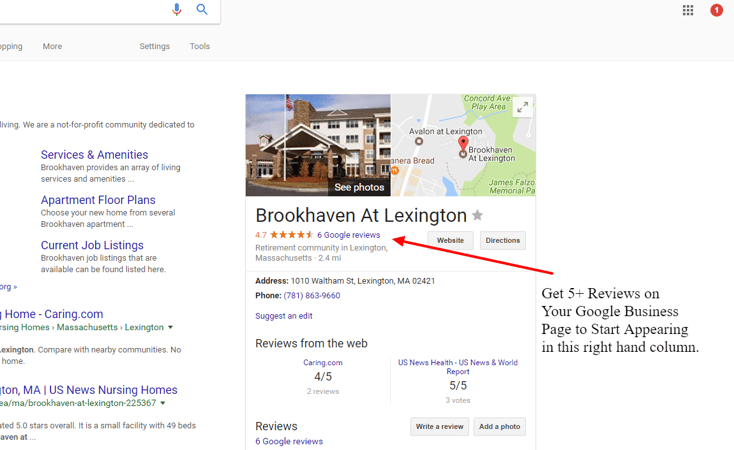 *Brookhaven at Lexington has done a great job of getting reviews for their community. Once you have over 5 reviews your site will start to appear in the right hand column of search results with a star rating.
To Make this process simple send your happy clients a link with a pre-populated 5 star review. There are sites that can help you generate these links. Try this Google 5 Star Link Generator Tool to make a link send out for your business. For Example, click HERE to see how it works when leaving a review for NextWave - please make it positive if you decide to leave one;)
These 3 steps are just the beginning of Local SEO for senior living communities. To learn more about getting your community found online in local searches download our free e-book on SEO for senior care by clicking the button below. Once you've attracted the types of visits you want to your website the next step is converting those visits into sales qualified leads (but that's another post completely).