With each generation comes new SEO keywords and search terms. It's no different for the aging generations. Between the millennials and the baby boomers, new trends and catchphrases searched on Google produce millions of new search engine results. With an increase in public awareness and increased use of the internet, individuals are savvier when searching for specific terms about senior care. As a Senior Living Community, knowing the trends in keyword data is mandatory for creating content, getting found by potential residents, and landing organic traffic to your website to convert to tours and move-ins. This blog will show how
senior living SEO
has changed according to the data trends.
Senior Living SEO: Changes in Senior Care Search Terms
According to recent statistics, the term nursing home has been replaced by more current terms that better define the specifics of what an individual or family member is looking for. In recent Google Trends Data trends, Google has noted that the keywords assisted living and senior living reign supreme. In fact, senior living searches have significantly risen in comparison to other searches by three times. The graph below shows Google data reflecting the increase in senior living search terms relative to assisted living and the declining search term nursing homes.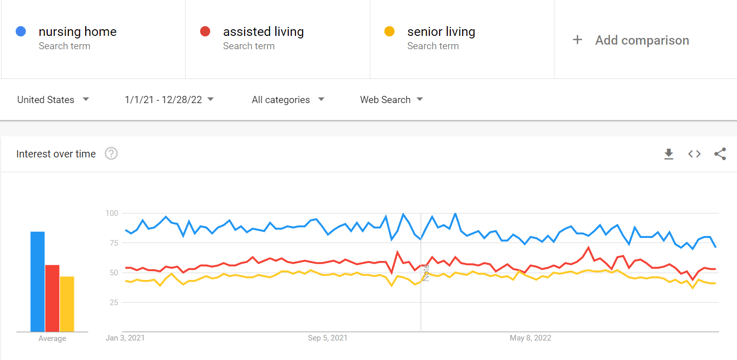 Often there will also be searches for specialties other than memory care. Baby boomers are looking for a helping hand when caring for their aging parents. Searches for assisted care home care, helping hands, and specialty care, as well as part-time help for aging parents, have been used increasingly often. This last term is especially interesting considering the increase in search interest from adult children of seniors around this topic.
"When Boomers are searching for themselves, they tend to look for things like independent living or 55+ active communities. But when they're looking for others, they tend to look for things like skilled nursing or assisted living communities."

- Marc Heneghan of Google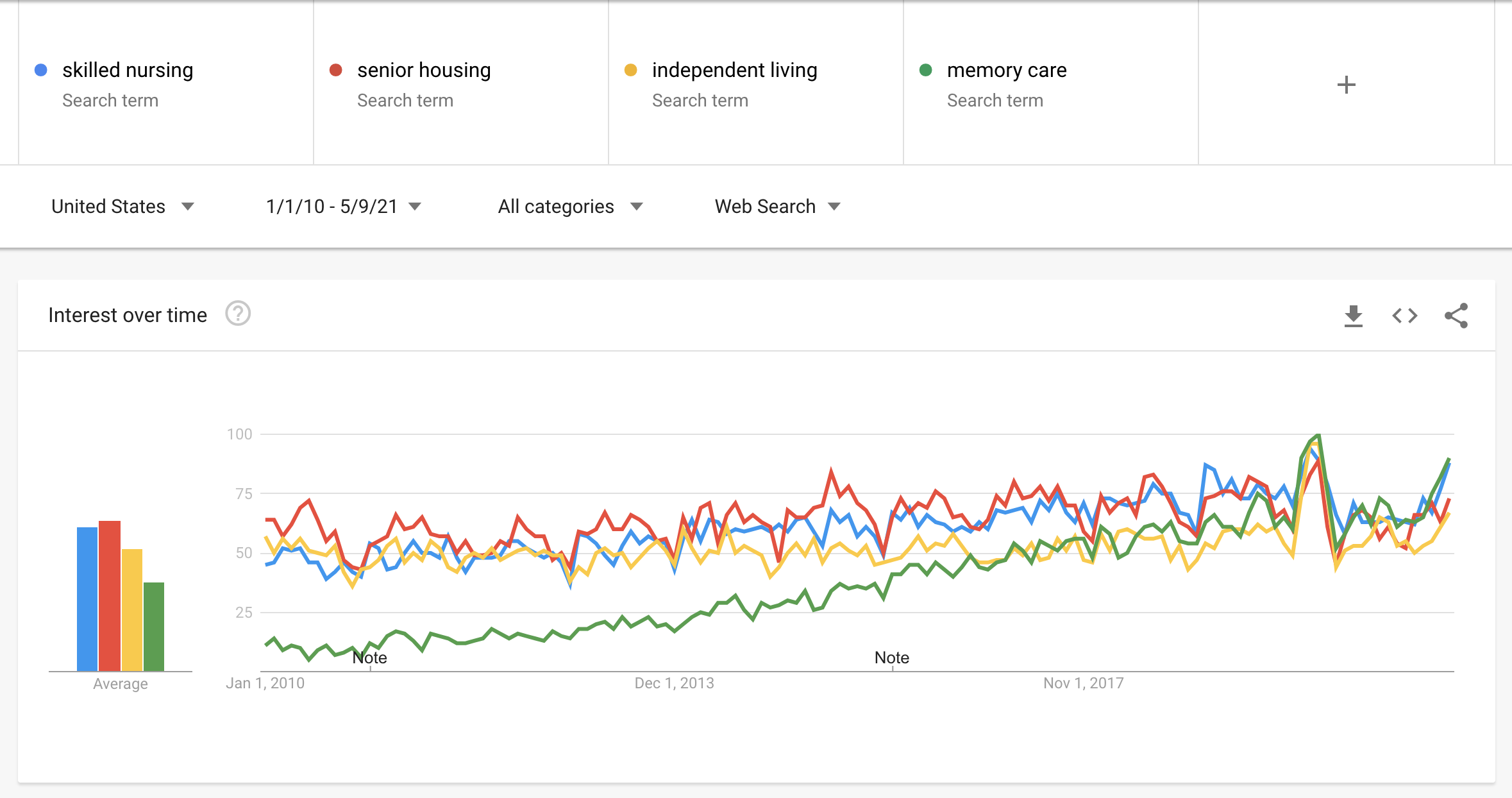 This graph shows a few trends worth mentioning:
The frequency of skilled nursing, senior housing, and memory care searches have all increased in the past 10 years.

There was a HUGE spike in searches for all terms around February of 2020, during the beginning of the Coronavirus pandemic.

You could conclude that these terms are increasing simply because more and more people are seeking senior care as the population ages. However, the relatively flat trend of "independent living" search interest suggests that the situation could be more complex as newer terms are introduced in the industry.
Technology and the Senior Living Industry
According to this article on technology in the senior living industry by Forbes, the tech industry is assisting healthcare facilities in bringing nursing care to the next level. And with the rising costs of healthcare, it only makes sense to make the homes of seniors safer and "user-friendly" via technology.
In a joint effort to make this transition possible, innovative thinkers are bringing real solutions to the table. The list of who's who includes: Sen. Bob Kerry, Apple stores creator Ron Johnson, Yelp CEO Jeremy Stoppleman, PayPal co-founder Max Levchin, Facebook CTO Mike Schroepfer, and a top list of Silicon Valley's best entrepreneurs, investors, and "brainiacs" These innovators intend to "reinvent" senior care to combat the need for safe, at-home choices.
Within this new and innovative world are also the keywords that come along with them. The combined effort of innovators, entrepreneurs, healthcare organizations, and caretakers will generate a plethora of search-specific terms. New and improved inventions such as the senior-friendly tablet will generate searches for technicians, businesses, and healthcare workers attached to them.
(Interested in Using Technology for Your Senior
Living Business? Download Our Guide to
Changing Landscape of Senior Living Search
There is a large uptick in the interest and search volume for keywords surrounding senior living and technology being created for seniors. The interest in terms of assisted living remains high while more specific terms like skilled nursing and memory care have increased greatly. Currently, searches are still attached to the senior, care, assistance and nursing and specialty terms however with future inventions and technology solutions come new search terms and terminology to go along with it.
What does this mean for you as a Senior Living Facility?
In order to capitalize on these rising queries, your services, website, social media, and SEO strategy must be aligned. Use these new words anywhere you have an online presence to help capture organic traffic, especially in the content you create. Don't just settle using your own words, do the research with a keyword tool like Google Trends to increase your own search presence. To learn more about digital marketing for assisted living communities, download the free guide below.