INBOUND is one of the largest marketing conferences in the country – and it's right here in Boston! This year over 21,000 marketing and sales professionals attended this epic week of learning and networking. While there were many lessons and breakout session over the course of the week three themes seemed to re-occur in many of the talks we attended. Below are our top 3 takeaways from this year's Boston inbound marketing conference.
1) From Funnel to "Flywheel"
During the conference the idea of the marketing flywheel continues to show up. While this topic isn't new Brian Halligan, Hubspot's CEO, went into more depth on how we've transitioned from the buyer-centric marketing "funnel" to the customer-centric marketing "flywheel." The idea is that in the past marketing and sales has seen the buyer as the end product of all their efforts, the point at which the sale was made and efforts directed at that customer can be ended.
The flywheel suggests that there's much more value in continuing the relationship after the sale. With trust in new businesses at an all-time low and customer-centric business models at an all-time high it's easy to see the logic in this mindset shift. Asking existing customers for referrals, testimonials, case studies, and future business is a much more effective way of doing business that by starting over completely with a new prospect.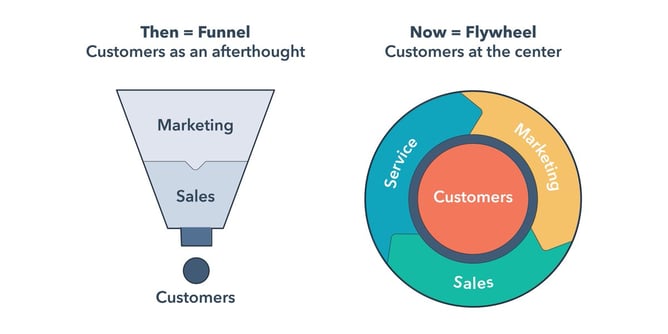 2.) Rise of Chatbots and "Conversational" Marketing
It's no secret that chatbot popularity is on the rise. Learn more about the benefits of senior living chatbots on the following article. Hubspot's recent launch of their chatbot feature has made it easier than ever to customize and launch a chatbot on your website. Personalized messages via chatbot helps to create a seamless connection between prospects on your website you're your sales staff. Information entered by a prospect into Hubspot's chatbot can even be entered automatically into their CRM so your staff will already have a contact record created with each chatbot interaction.
"The Global Chatbot Market to grow at a CAGR of 37.11% during the period 2017-2021."
-Reutgers
The rise of chatbots and messenger apps are part of a greater movement into "conversational marketing." This concept is basically the idea that prospects would rather engage with your marketing, sales, and customer service staff on their terms. Meaning not getting blasted with email messages or prompts to do certain things. The buyer wants to be in control of the process by asking the questions that they want to ask when they want to. Chatbots use marketing automation and artificial intelligence to both improve the customer experience and improve efficiencies at your company.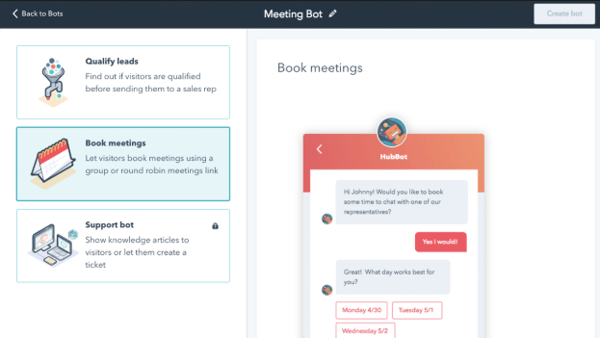 3.) Rise of
Short "Personalized" Video
At this year's conference Hubspot announced the launch of Hubspot Video – a video tool powered by Vidyard. This launch is part of another re-occurring theme at the conference which was the use of "personalized" video. Personalized video uses the latest video creation tools to make videos instantly from your computer with the click of a button. Personalized videos can include screenshots on a prospects website, personalized messages to customers or prospects, or industry-specific messages.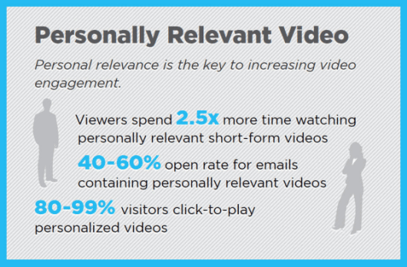 Sales teams can use personalized video to follow up with prospects and stand out from the competition. Or explain proposals to prospects right over video. Customer support teams can use video to explain services or even show customers how to do things right inside their own portals. Personalized video is effective as its become so easy to put together quick videos and share them. They offer a better customer experience and better engagement. They've also been show to increase email open rates and help you stand out from competition. This can be a great tool to help your company stand out in a competitive market and certainly something we plan to use more at NextWave.
In summary there's lots of great things happening in the world of inbound sales and marketing. Utilizing the latest tools and technology is hugely important when it comes to staying ahead of the competition. To see how you can start utilizing the latest technology at your business click the button below. A member of our staff will book a 10-minute consultation and screen-share to go over your website and show you some "low-hanging fruit" that you improve upon in your inbound marketing efforts.