There are many things that you can do to help and business, including home care for seniors, get found online. If your business operates in a specific geographic area it's even more important to optimize your website for local search results. We've put together a few senior care marketing tips to help get you started with local seo.
Get listed/verified on Google My Business
This first local seo tip is both simple, easy to do, and effective. Especially if you're a business that operates in a specific geographic area and wants to be found in local search results. When setting up a Google My Business page they'll make sure that you verify your physical location. Even if you just work out of your house and travel to people's homes to work this is definitely worth doing. They typically will mail you a postcard to your address listed on your business page and have you input a PIN number to verify the location. Once verified Google will start to recognize your geographic area and help you to show up in search results such as "Care Givers near Boston MA" if your verified location is near the Boston area.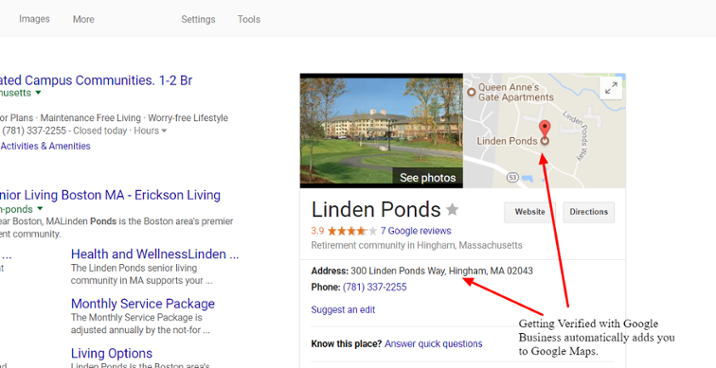 *Once you've verified your community on "Google My Business" a map of your business and location will start showing up results.
Start a blog with helpful content
Blogging consistently does a number of things that greatly helps your business and website. It increases the number of "indexable" pages on your site and gives you an opportunity to rank for a new search term with each post. When you craft a post around a particular topic you can optimize the post so that search engines find it when people use certain terms. It also promotes you as a "thought leader" in your specific industry. By providing content that people find both useful and relevant potential customers start to see you and your business as a expert in that area. This ensures that your business is top of mind when it comes time to choose a caregiver for their loved one.
"Marketers who prioritize blogging are 13x more likely to
achieve a positive ROI on their efforts."
- State of Inbound
Optimize for "NAP" – Name, Address, Phone
This search engine optimization tip is also both simple and effective for locally based businesses. "NAP" or Name, Address, Phone number is the information that's included typically in the footer of your website. By having this information match your Google business page info EXACTLY it helps search engines to understand that your business serves a particular geographic area. Since the footer code of a page loads on every page when search engines crawl that page they see your location info and tie your content to a specific area. This also helps when people search things like "Best caregivers near me." If the searcher is located near your place of business you'll have a much better chance of showing up in localized results.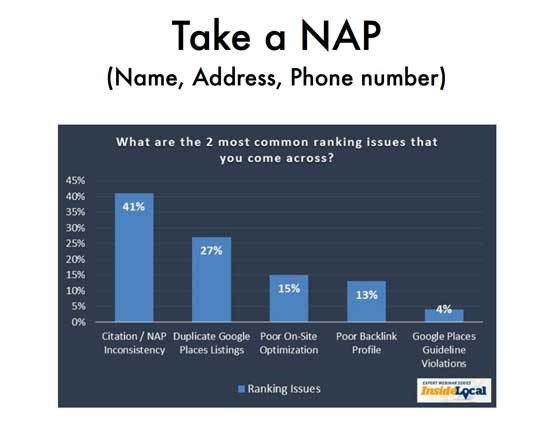 Hopefully you found these tips useful for senior care lead generation and getting your business found online. Local SEO for senior care is extremely important if you serve a specific geographic area. To learn more about inbound marketing for senior care, lead generation, or senior care marketing head to NextWaveCare.com and request a free website audit or consultation.