There are numerous benefits of utilizing PPC for senior living marketing. With the increasing number of baby boomers turning to the internet for information there's no wonder why this method of targeting prospects has become more popular. The granular level of targeting that you can achieve with pay per click advertising allows you to target not only seniors but their "adult children" as well. To help you get started we've put together 4 quick tips for using PPC to market your senior living community.

*Above shows the search results for "assisted living near Boston Ma" - the ads that show up at the top had the highest bids for that search term as well as the highest "ad quality score" (a factor determined by how well their ad and landing page correlates to that specific search term.
(Launching a New Location this Year? Checkout our Location Launch Program© for New communities)
1. Start with Keyword Research
PPC advertising all starts with selecting the right keywords that you want you ads to show up for. Keyword research and planning your ad copy is one of the most time consuming, but also most important, parts of setting up your PPC campaigns. You'll want to research to discover the keywords and phrases people search online to find your assisted living community.
Keyword research tools like Ubersuggest and Keyword Tool are great because their tools are based on actual online search data. You can use them to find key insights about what phrases and keywords that people search online to find assisted living communities in your area.
Then, you can incorporate those keywords into the targeting of your PPC campaigns. When people search things like "Assisted Living near Boston, MA" you want your communities's ad to appear in the paid ad section of search results if that's one of your targeted search phrases or "long tailed keywords."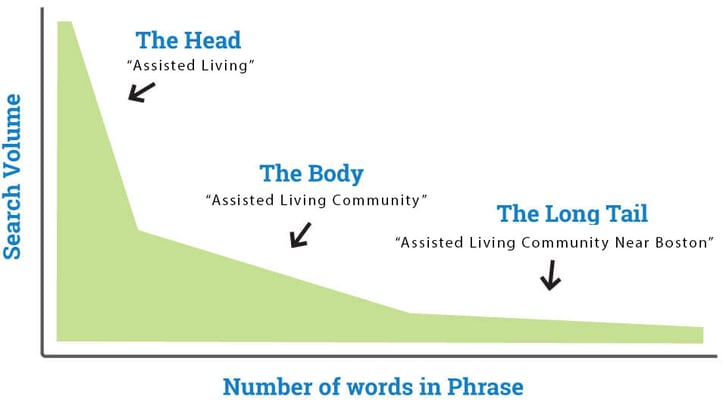 *The more specific your keywords are to your location the less traffic you'll receive but you'll also have a better chance of your ad showing up. Less competition means that you have a better chance of conversion when using "long tail keywords" to target your traffic.
2. Optimize your Landing Pages
An extremely important and often overlooked part of PPC campaigns is having conversion optimized landing pages. Landing pages are what you'll be directing your PPC ad traffic to. Landing pages are different from regular web pages in that they are meant to capture lead information. Landing pages typically have a main offer or "call to action" and contain a form where visitors can submit their information in exchange for this offer. The closer your landing page content matches the content of your paid ad copy the higher your ads "Adwords quality score" will be and the higher your ad will show up in search results...but that's a whole other post all together. What's important is that your landing page copy needs to engage readers, and it needs to relate to the copy in your ad.
For example, if someone clicks an ad for an assisted living community and arrives at a page on your site about your memory care services they will likely be confused or frustrated and immediately hit the back button or close out of that window. The page simply didn't match what they clicked on. To get the most from your senior living PPC campaigns, you need to make sure that your ad and landing page copy work in sync to attract and convert visitors.
"A typical website conversion rate is about 2.35% on average. But the top 10% of companies are seeing 3-5x higher conversion rates than average."

-Wordstream
3. Constantly Evaluate and Optimize Campaigns
Finally, it's important to continually monitor, evaluate and adjust your campaigns as time goes on. Evaluating which ad groups in your campaign are driving the most results and adjusting your ad budgets accordingly. With Google AdWords conversion tracking, you can see which ads lead to key customer conversion activity like form submissions and phone calls to your community. From inside your google analytics account you can determine how many website visitors and conversions came from different paid advertising channels such as Adwords, Facebook, or Bing.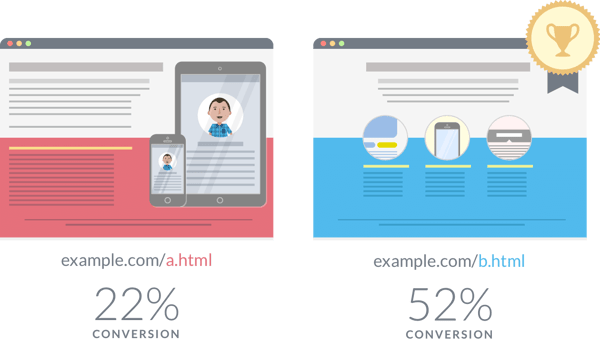 *In addition to adjusting your PPC budgets you can also A/B Test the landing pages that you send traffic to. Sometimes small variations in your landing pages can have a huge impage on how well that page converts visitors into leads.
By continually monitoring your campaigns, you can make adjustments to your ads that help you get the best possible ROI from your different PPC campaigns. To learn more about PPC for senior living and how you can help drive tours to your community contact us for a free consultation. If you're building or have recently purchased a new community in a new area we've created a program called "Location Launch" which helps drive targeted traffic to increase leads to your new location.