Choosing a senior community requires trust. This trust comes from positive feedback. In the past, friends and acquaintances were the primary means for gaining a referral for a senior community. Today the place most people turn to first to form an opinion of your business is the internet. There's not shortage of review sites and businesses' reputations today are more vulnerable that ever. This exposure can also be used in your favor however. By being proactive about getting good reviews for your senior living facility (as opposed to reactive about bad reviews) you'll have a chance to stand out and win business over your competition.
How to Get Positive Reviews for Your Senior Living Community

1.) Give visitors a reason to talk about or write about their experience.
The best way, ultimately, to garner more positive online reviews for assisted living facilities is to give visitors something positive to write about. When individuals visit your community, don't look at them just as potential customers. Look at them as potential reviewers, also. This requires identifying your center's strengths and highlighting those strengths as much as possible. If, for example, your center has first class landscaping, give them a tour of the garden. If your center boasts recreational activities, bring visitors along to participate. Train your staff to provide these types of experiences, so it becomes automatic.
2.) Identify Residents most likely to leave a positive review.
Use surveys, email, social media, letters, conversations, and any other means of communication in order to identify who is most likely to leave a positive review. Then simply ask them to leave an honest review. After working in an assited or independent living facility for a short time you'll quickly get to know which residents are willing and able to leave a positive review for your business. You can even ask them if they'd be willing to record a short testimonial video which you could also transcribe into text for a testimonials section on your website. According to Hubspot:
"65% of senior marketing executives believe that visual assets (photos, video, and infographics) are core to how their brand story is communicated."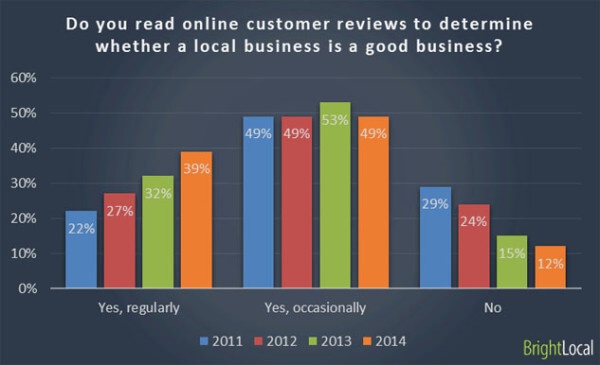 "88% Of Consumers Trust Online Reviews As Much As Personal Recommendations" -Brightlocal 2015 Study
3.) Ask the Adult family members of residents to leave a Review
This is often a completely untapped resource for getting reviews for your senior living community and in many ways is the most important. According to a Care.com study "73% of the time it's the children of seniors who research senior living facilities on behalf of their parents." This means that more often than not it's the adult children navigating your website and reading your reviews online. Why not have reviews tailored specifically to them? By asking the adult children of your residents to leave reviews you'll be generating better "persona-based" content for your website readers as well as expanding your pool of potentials reviews massively.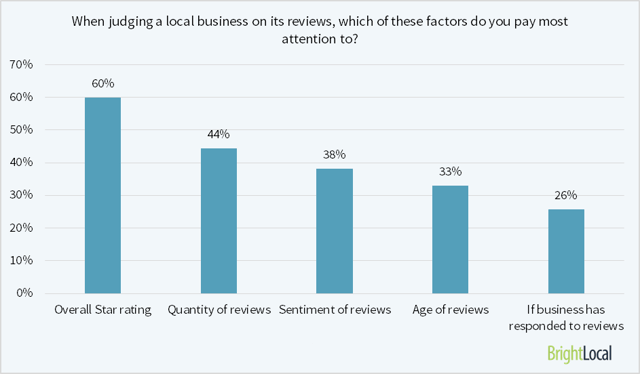 *The most important factors when it comes to online reviews - BrightLocal
4.) Make it as easy as possible to leave a review.
People are busy. They may feel the urge to tell the world how fantastic your senior community is and how well their mother is doing. If it's not easy to do, however, this task will get crowded out by other demands. If someone has a positive experience with your community, send them an email--easily done if you've made this part of the sales process, as previously recommended--and include links to Facebook, Yelp, Caring.com, or other sites where they can tell the world how great you are. You'll also wan to include links to review sites in your email signature of your emails. This is an easy "set it and forget it" way to solicite reviews passively. Try a service like Wisestamp.com to craft a beautiful email signature with your picture included.

*Notice the links to social media and review sites in the email signature. This is an easy and passive way to solicite reviews for your facility.

5.) Create a review station at your center.
Imagine a visitor stops in to check on her aunt and is impressed by the quality of care and the number of social activities available to your residents. And on the way out, she notices a computer station with a sign above that invites her to leave a review. Think of it as an electronic comment card and a great way to get input. In addition, you can invite visitors to post comments or pictures on social media relating to their experience.
Even for the best of businesses, not every review is going to contain a glowing recommendation. These reviews also serve a purpose. It helps you know where you can improve.These improvements can then be reported as follow ups to not-so-positive reviews you may have received. This shows a willingness to give customers a voice in the service they receive. To learn more about using online reviews to get found online click the button below to download our free guide to SEO for retirement communities.