PPC or Pay-Per-Click advertising is a great way to help launch your new senior living community. PPC can help you target potential residents and help fill occupancy at your senior living community as soon as possible. By utilizing these five tips on PPC for assisted living communities, you'll watch your ads bring in qualified potential residents and drive more on-site visits to your community.
If you're short on time and simply want to learn how to create a system for responding to leads, click here to download our free guide to senior living lead response.
5 Assisted Living PPC Tips For Senior Living Communities
1. Customize Your PPC Ads As Much As Possible
Customize every aspect of your PPC ad that you have the ability to customize. Target both seniors, who might be interested in becoming residents of your community, and their adult children, who may be looking for senior living options for their aging parents. To make more effective PPC for assisted living communities, the advertisements should be highly specific, rather than targeting a broad range of potential searchers outside your geographic area. Pay-per-click advertising is most cost-effective when you narrow down the individuals it appears in front of.
"

You can increase your brand awareness by 80% with a PPC ad

"
2. Fully Explore Long-Tail Keywords
Long-tail keywords are the most effective way to find people who are looking for a senior living community exactly like yours. For example, if your community offers a focus on green living, target your ads to "green senior living communities" or "environmentally friendly senior living communities." If your community is targeted toward people who live a specific type of lifestyle or who are looking for specific types of activities on a regular basis, highlight those long-tail keywords. Don't forget the importance of specifying geography! Like many businesses, senior living communities won't have viable advertising opportunities for people outside your geographic area. The following graphic shows the different impacts that a marketing strategy can have depending if it is business-to-business (B2B) or business-to-customer(B2C), in this case, PPC for assisted living communities is having a good impact in terms of lead generation.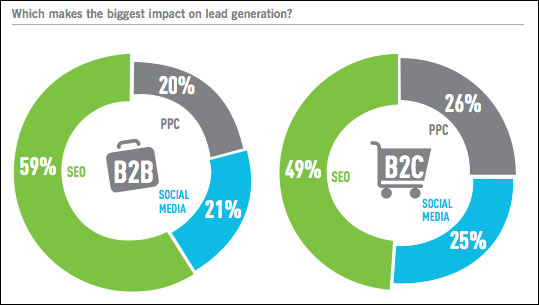 *For B2C businesses like senior living communities PPC has a larger impact on lead generation than B2B businesses.
3. Check Your Geo-location Settings
AdWords has an excellent Geo-location setting that will allow you to target your ads to people in a specific geographic region. While adult children may do a search for senior living communities for their parents that are outside the children's area of residence, chances are, most of your useful conversions will come from families that are located near your senior living community. You can set Geolocation to target customers who are within a specific number of miles of your community or who come from a particular region, ensuring that your Tennessee community doesn't show up in an ad for someone located in New York.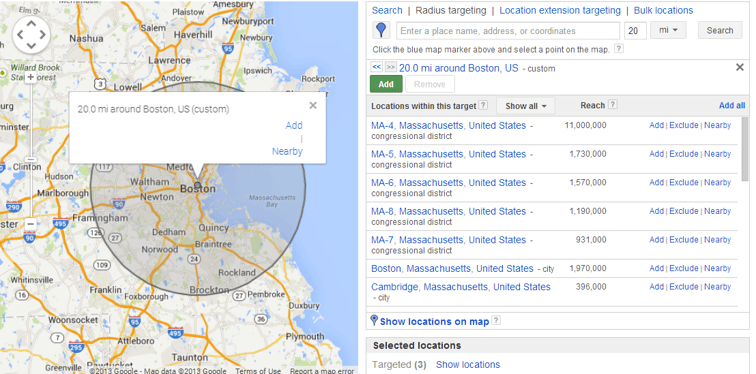 *Having the ability to target geographically is huge for senior living communities. If you know where your target residents are coming from you can direct your ads to those specific locations around your community.
4. Check Your Results!
What keywords is your senior living community already targeting? Which keywords are bringing in the majority of your traffic? If you've already launched your website or have started your SEO campaign, examine the keywords that have attracted the greatest number of visitors to your website. Those keywords can be the ticket to creating a successful PPC campaign for your senior living community.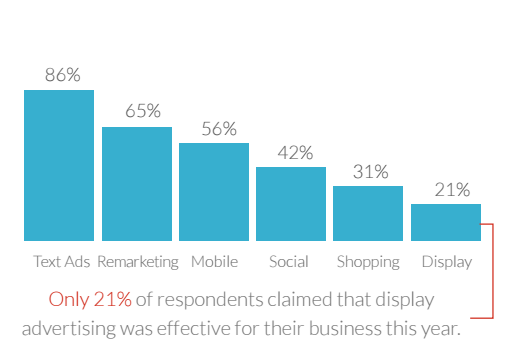 *This graph shows the effectiveness of each different type of PPC advertising. Depending on the specifics of your business you'll want to try a mix of these tactics, however, text ads still remain the most effective channel.
5. Utilize "Negative" Keywords
Say you're an assisted living community that doesn't provide skilled nursing care. Negative keywords will help ensure that you don't end up with visitors from your PPC campaign that aren't interested in exactly what your senior living community has to offer. By including negative keywords, you can more effectively customize the design of your website and use it to target potential residents who are more likely to make your community their home. The ability to exclude certain keywords from your ads will ensure that you don't get requests for something your community simply doesn't offer.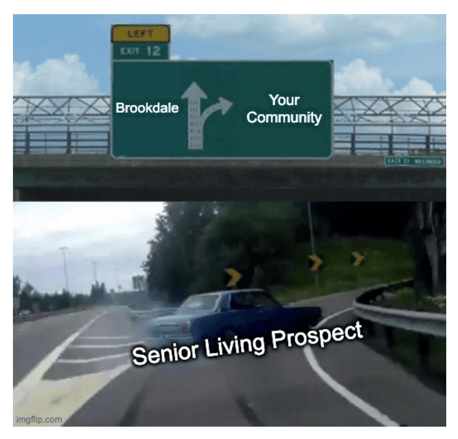 PPC advertising can be an excellent complement to your inbound marketing strategy. It will increase the number of potential residents and their families who actually see your senior living community in their search results, making it easier for you to generate more local interest. This is especially effective for a new community that's just being built or has just opened its doors in a new location.
To learn more on how to implement PPC advertising and reach your occupancy goals quickly and efficiently, contact us today to schedule a consultation to discuss this marketing strategy or other inbound marketing