Your senior living community's website is the best marketing tool that you have. It is the public face of your company, and even with the rise of social media, it is still the best way to generate leads. Yet not all websites are created equal. Some perform better than others when it comes to capturing inbound leads. Is your community website generating the volume and quality of leads that you want it to? If not, here are some tips about how to generate website leads for your senior living community.
Make Your Website Responsive

Not too long ago all a website needed was some interesting content and a few backlinks to secure its ranking in Google and Bing. Times have changed. Today a website has to be responsive, meaning that it renders well across all devices, including smartphones, tablets, laptops, and desktop computers. According to Statcounter, around 62% of internet searches now originate on a mobile device. If your website does not look good on a smartphone or iPad, then your visitors will leave. To capture inbound leads, you first must ensure that your website is responsive and implements a growth-driven website design.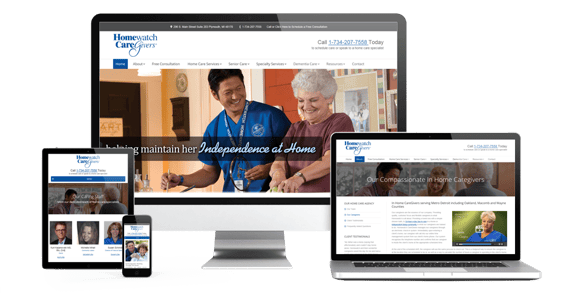 *
Identify Your Target Marketing "Personas" Up Front
Who are your potential customers? Are they looking for a certain kind of accommodation or amenity? Are they seeking particular services or extra security? A practical way to understand your target market is to survey your current residents. What drew them to your community? What do they like best about it? Once you have this information, then you can design your website to highlight the features that your residents enjoy the most. For example, you can create a section about your amazing amenities or a page that discusses the many services you offer. The more your website "speaks" to its visitors, the more leads for your senior living community it will generate. Each marketing "persona" that you craft has different needs and wants. You should craft all the content on your website to speak directly to each of these personas as best you can. Spending time doing this upfront will give you direction with your marketing efforts.
Offer a Free eBook, Brochure, or Piece of Downloadable Content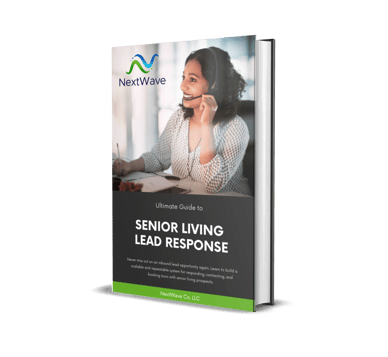 Offering a free eBook or a downloadable brochure is a great way to collect leads. Do this by adding a form and call to action, such as "Sign Up Now," or "Download Our Free Ebook" on every page of your website. Visitors must complete the form in exchange for the eBook or brochure and in doing so give you their name and email address. You can then send them emails containing promotions, community updates, holiday greetings, and more.
*Our Free Guide to Senior Living Lead Response on the left is an example of a "CTA" or Call to Action. This entices visitors by offering something of value upfront. It's a great way to become a thought leader in your industry and generate leads from your website.
Add Videos to Your Website
according to a study by Google, boomers and seniors spend more time online than they do watching TV. According to Ipsos, a leading marketing research firm, baby boomers and seniors now spend more time online than watching television. And according to Pew Research Center, baby boomers spend more than half of their daily leisure time, four hours and 16 minutes, in front of screens, mostly watching TV or videos. This is why your retirement community website needs videos. They are what people want to see. Viewers experience an emotional connection with people in a video. This creates trust, and that influences buying decisions.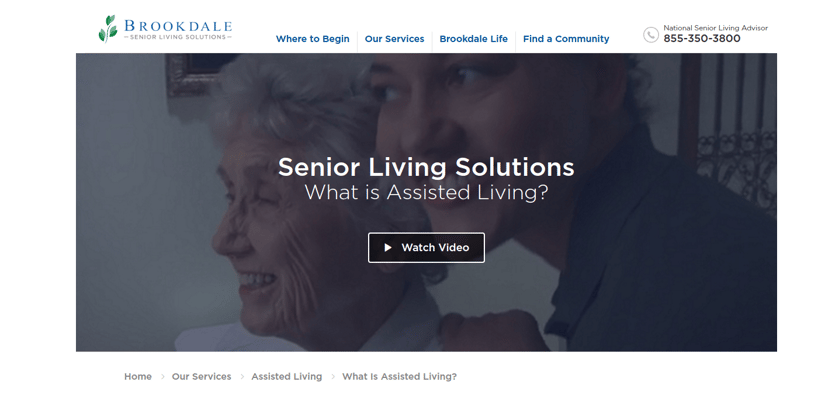 According to Digital Content Next, "46% of users take some sort of action - filling out a form, making a phone call, buying a product - after watching a promotional video."
Promote Your Community Website
Once your website is responsive and has videos and a lead capture form, then it is time to promote the site. Two of the best ways to do this are through Twitter and Facebook. Twitter works well for announcements or bringing attention to newsworthy topics. Facebook is the place for storytelling or showcasing residents or trusted employees.
Plan out your tweets and postings ahead of time, and always include a link to your website's specific page where users can find more in-depth information. Add a targeted contact form to this page. For example, if visitors have come to the site from a Facebook post about a new amenity, then make it easy for them to contact you about that amenity and others.
Implement Analytics to Gain Insights
"In God we trust, all others must bring data."

-

W. Edwards Deming

The Marketing Dashboard in Hubspot offers extensive information about your website visitors and leads

You do not have to guess how visitors interact with your website. By adding analytics code to the site - many sites use Google Analytics - or a software tool like Hubspot to get an even more detailed overview of website statistics. With analytics tools, you can see what pages users visit, how long they stay on them, what links they click on, and much more. This gives you the insights you need to get the most out of your site. For example, if your pricing page is particularly popular, then you might think about highlighting it on the homepage or tweeting about it more often. If visitors only stay on your floor plans page for a second or two, then you might consider adding photos or a video to make it more engaging.
In today's competitive environment you need to put your senior living community website to work for you. The days of a static "brochure-like" website are over. Use all the tools available to make your website a dynamic lead generation machine, and watch your business grow.