If you want to promote confidence and trust in your senior living community Google reviews are one of today's most influential options. Marketing is changing and those who experience your brand and share their experience are the ones who help define it. Zendesk recently performed a survey and found that "nine out of 10 respondents claimed positive reviews had an affect on their purchasing decision." For this reason, reviews may be the determining factor as clients make the important decision to choose between your company and the competition. As Google continues to dominate online search getting customers to post positive reviews to your Google Business page is increasingly important. Learn why and how to start getting postiive reviews for your senior living business in this post.
Why Are Google Reviews Important
Think of any time you searched for a local business or service. More likely than not you were influenced by the review ratings and the number of stars that a company had in your search results. All things being equal, if you were to pick between a company with no reviews and a company with 10 "5-Star" reviews it's pretty obvious who you would choose.
Not only do Google reviews affect your opinion of a company but they also help your business to show up in localized search results. Online reviews are stated to make up approximately 13% of local ranking factors. If you're looking to improve in local SEO for senior living then reviews can have a considerable impact.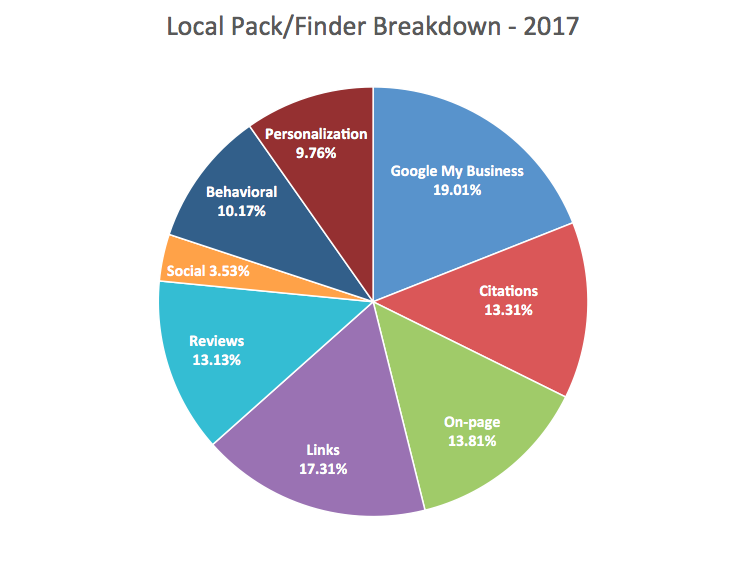 *Reviews account for approx 13,13% of Google's Local Search Algorithm.
"88% of consumers say they trust online reviews as much as personal recommendations."

- Search Engine Land
How to Link Your Google My Business Review Form
Before you share your business page with clients, you want to make it as easy as possible for them to leave reviews. You can do this by sharing a link directly to your business's review form. Not only can you easily share the link, but with the steps below you can send a pre-populated link to a 5 star review!
1.) Visit Google and search your company name.
2.) Select "Write a Review" on the right side of the page.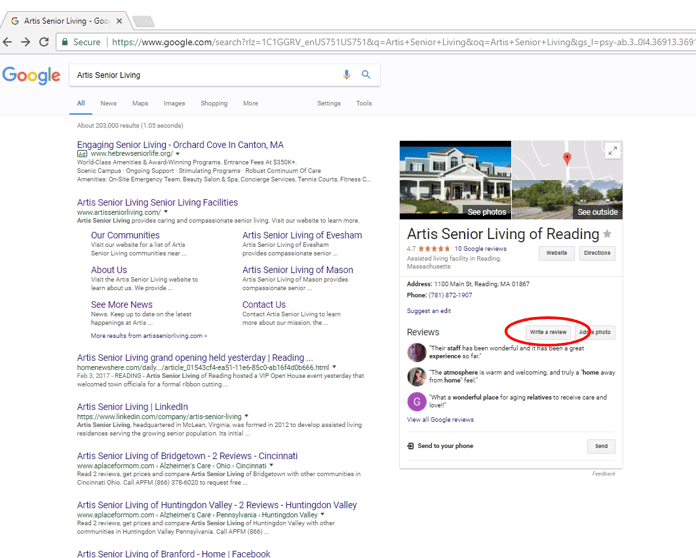 *Artis Senior Living has done a great job of getting positive reviews for their Reading location. That makes a huge impact in their first impression!
3.) A Google review box will pop up and when it does, copy the URL in the address bar.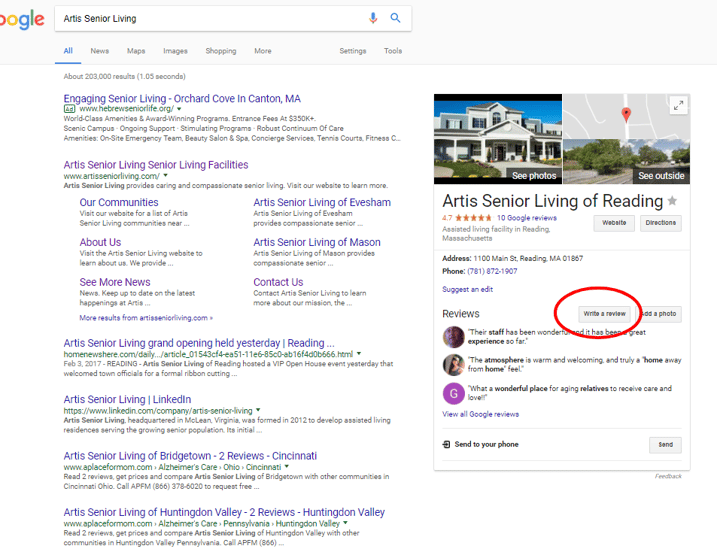 4.) Append the URL with a "5" at the End
The address will be lengthy, but you only want to focus on the last digit which will be a "3". Now, for a little trick, add a 5 after the final comma in the URL. This link will not only be taken to the review box, but five stars will already be pre-populated when somebody clicks on the link. By doing this your residents (or children of residents) can quickly and easily click the link and open their browser to leave a 5 star review for your community.
5.) Shorten the URL.
You can make the URL more user-friendly by using your favorite shortener. If you don't have a favorite, Google has a great URL Shortener tool that you can use here:
https://goo.gl/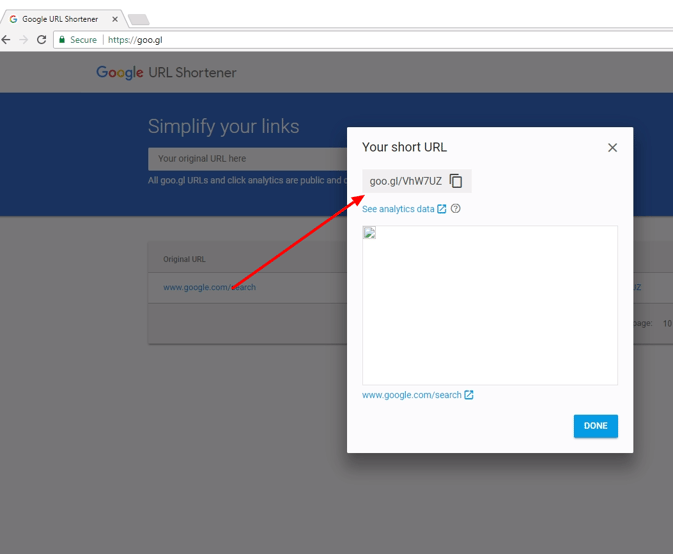 6.) Copy the Shortened URL & Send to Happy Customers
Now you are ready to copy and send the short URL to your clients in an email allowing them to leave your Google My Business page a 5-star review. You can also use this link in your email signature. Simply include a "leave us a review" button or text in your email signature and link it with your new shortened URL. This will allow anybody you email to be able to easily click into your email signature and leave a 5-star review for your community.
Don't Be Afraid To Ask For Reviews!
Now that you have your pre-populated 5 star link you need to put it to use! Encourage clients to leave feedback and show them how to do it if they're having issues - remember getting reviews is an important initiative for your business! Also, pay attention to your timing. If you get a compliment from a resident you don't want to wait so long to ask that their excitement has faded. Once you've identified a happy customer and the timing is right, ask them!
Best of luck with this initiative, it can have a very positive impact on your community. If you want to learn more or find out how to increase your online presence and generate qualified sales leads from your website please contact us for a free consultation today.