While senior care communities are now an integral part of our society, not all senior living communities are the same. When it comes to finding the perfect community for Mom or Dad (or both of them), most of the decision makers will turn to the Internet both for information and their final decision.
As a manager or sales director of your own senior living community it is up to you to determine how to present your own community in the best possible light. To start 2018 on the right foot you should take advantage of the following senior living marketing tactics to improve both occupancy and retention rates at your communities.
1. Make the Most of SEO
There is a reason that SEO (search engine optimization) is all the rave these days. Every business dreams that their ideal client will type in their need or interest in Google and find their own business appears at the top of the results page. Yes, it is all about ranking well for search phrases, most specifically search phrases and terms that are relevant to their business product or service.
The reality is that most users actually assume that Google is making a recommendation, instead of the truth that Google only uses an algorithm to decide which websites to list after a search request. The key is to figure out how to have your website stand at the top of the search engine results page (aka SERP), so that the searching person will conclude that your business is the one to use.
"93% of online use starts with a search engine"
– Vimeo
2. Keep Your Information Up To Date
There is nothing that will turn off a person faster than old or inaccurate information on your website or in online directories. A wrong phone number will just send that caller to the next senior care community on the list; they will assume that you are either out of business or simply don't care enough to keep your contact information up to date. This also goes for all social media platforms that you are using for your facility; make sure all information matches across all social media accounts so there is no confusion whatsoever. This is especially important when trying to optimize for NAP (Name, Address, Phone Number)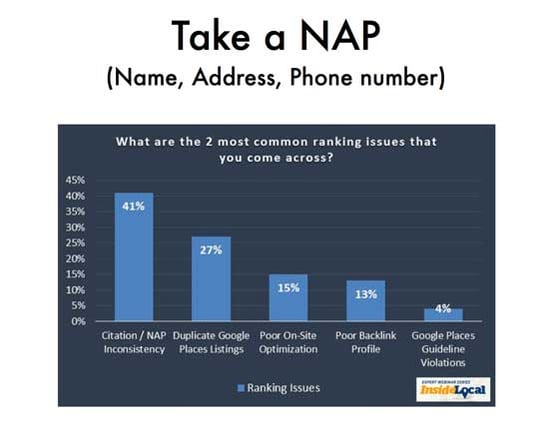 3. Keep Current With the Times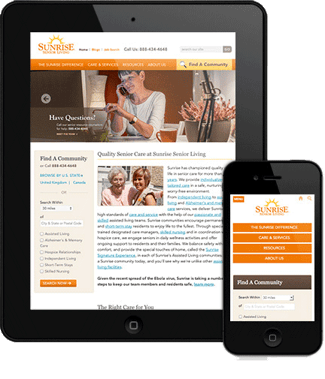 Did you know that over half of all Internet browsing now occurs on mobile devices such as phones and tablets? Yes, and this percentage of use continues to increase each year, for obvious reasons. With everyone on the go and Internet access available in most populated areas, people are doing their research while they are out and about. Why wait until you get home to compare prices against Amazon and eBay when you can see right now if the deal being dangled in front of your eyes is really as good as the store says it is?
Most frustrating is going to a website that has not been optimized for handheld devices, leaving the user scrolling back and forth to read the screen. Make sure that your website if perfectly mobile-friendly and readable for those phones and tablets that everyone is carrying around these days.
4. Your Brand Does Matter
Brands do matter, and whether you have deliberately forged your own brand or let apathetic marketing do that job for you, you have a brand. It is important to have a clear brand that defines you and shows why you stand out from the crowd. Are you communicating that you know how take babysit old people or do prospects see your brand as one that embraces each senior member and involves each person intimately in their local community? Be proactive and positive in your branding so that your potential new members actually want to be part of this new living arrangement!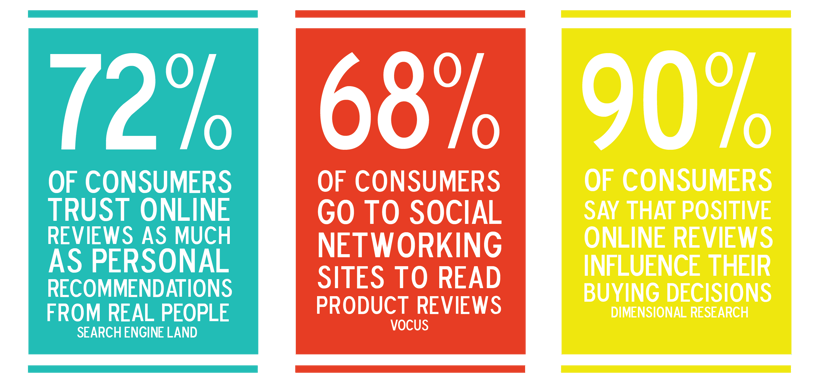 5. It Is All About Reputation
Reputations take a long time to build and one bad act can send it tumbling to pieces. While you will always put on your best face, savvy Internet users know how and where to look for independent and unsolicited reviews of your place of business. One bad review will not strike a death knell for a senior living center, but a series of negative comments can do irreparable harm. This is why all senior care executives must take user reviews seriously and respond positively to each and every review that they come across. Marketers must also become efficient at asking for positive reviews.
Many people fear bad reviews, but bad reviews are important to let a business know what they are doing that is not working. That leads to the opportunity to respond positively and to make the right corrections which leads to improving your reputation.
Nobody is perfect, but everyone is wary of the person who is more concerned about defending or denying past wrongdoing instead of taking steps to insure that harmful actions of the past are being corrected so they will not occur again in the future. Your reputation should reflect that your intentions are good and that you are always working to improve the quality of your work and service.
About NextWave
NextWave is a senior living marketing agency that offers inbound marketing services geared towards the assisted and independent living industries. Nextwave works in tandem with your existing sales and marketing team to better utlitize your website as a tool for driving business growth. Contact NextWave today to learn how you can increase the occupancy and retention rates at your senior care community.