Have you ever wondered why some companies come up when you search for "pizza near me" and others don't? It's because they've spent some time and effort optimizing their online presence for local SEO. Local SEO is a specific type of search engine optimization that allows companies to show up when somebody searches for a certain keyword in your geographic area. By implementing local SEO strategies for senior living your community can gain a dominant edge over local competitors.
Local Backlinking
Link building helps to drive traffic, to increase your communities brand visibility, and is one of the cornerstones of a healthy website. Providing links to and from local business sites and directories helps to get your website displayed in localized search results in ways that other search engine optimization tactics cannot.
Local clubs and outreach organizations offer opportunities for retirement communities because it shows users they invest in the community around them. Building links to and from the site are all about relationship building, thus choosing websites to associate yourself with is very important. Often times getting a link from a local organization is as simple as contacting the site admin and asking. So what are you waiting for?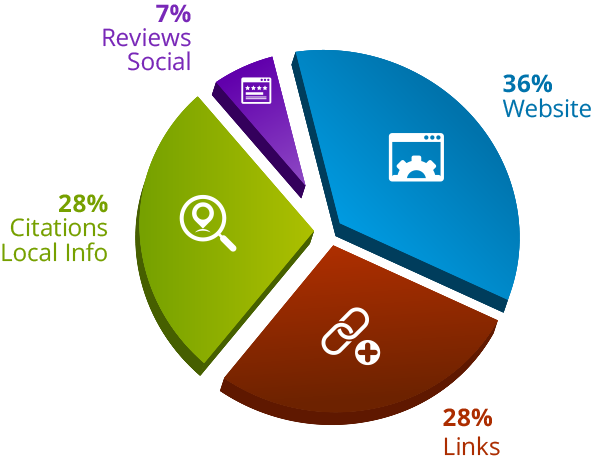 There are a number of factors that make up your ability to rank locally. We cover a few in this article but you also need to focus on on-page SEO as well as garnering some reviews in order to get fully optimized for local search.
Content Focusing On Your Local Area
Everyone loves personalized content aimed at their needs or their area. If your retirement community creates regular, keyword-focused content you'll be in a great position to attract new potential residents and gain more visibility than your local competitors. Examples of content that you can modify for your local area include blogging, video, infographics, e-books, checklists, webinars, or whitepapers. Interviews and testimonials from previous or current residents not only can help you get found in local search results but can also help you to convert leads into new residents by giving them peace of mind that your community is right for them.
Also, remember to try to mix localized geographic terms into your blog posts and site pages. This will help your site get indexed for those terms by search engines and help to improve your local search rankings. For example, you might be writing a new blog post on your site about "how to choose a senior living community." To optimize this post for local search you might change the title to "how to choose a senior living community near Boston, MA" - in this example you'd be optimizing your post for "senior living community near Boston, MA" which is an excellent long-tailed keyword to rank for.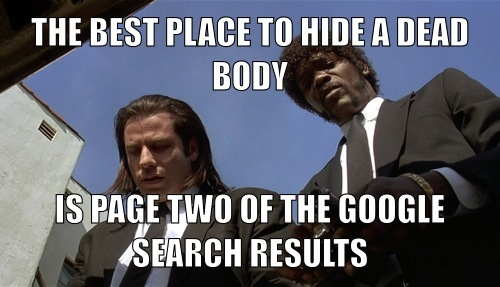 "Content Marketing is a more competitive environment certainly, but those who have real empathy for web users and influencers AND have the SEO skills to infuse their work with great keyword targeting, search accessibility, etc., are going to have ongoing success."

~ Rand Fishkin, CEO/Co-Founder, Moz
Be Present On Google Maps and Local Directories
If your contact and map information is not visually available and easy to get, users are far more likely to become discouraged and move on. A majority of users who search for business will visit a business that day, or subsequently, so it's important to make your communities presence on maps and directories forefront.
A few of the top platforms for companies where you can claim your listing are Google, Yelp, Yahoo Business, and Bing. And these are just to name a few. The secret is to claim and update your communities information on many of the prominent local directories to increase visibility. One thing to remember is that it's extremely important to have your "NAP" (Name, Address, and Phone Number) EXACTLY the same as you do on your website. To learn more about how to set this up and why it's important read this article on the basics of Local SEO for senior living communities. Our article show you to hold the reins when it comes to how your communities name and contact information show up on maps and directories. Therefore it's a tool that shouldn't be discounted.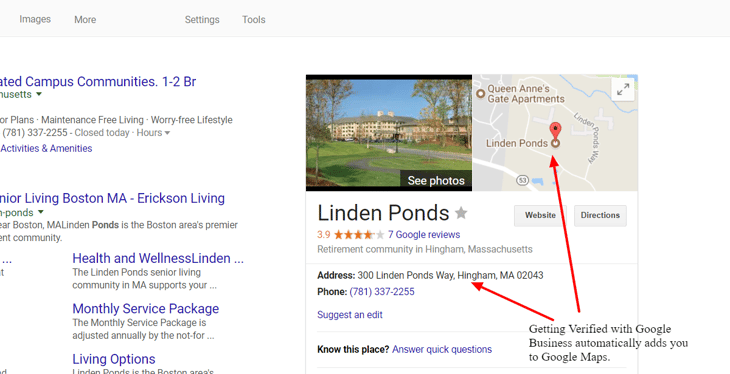 *Once you've verified your community on "Google My Business" a map of your location
will start showing up results.
The great thing about local search engine optimization is that unlike PPC advertising it's effectively free - it just takes your time and effort should you choose to not hire an SEO agency. Although it takes a while to set up correctly and is an ongoing challenge as search algorithms change, the positive impacts of good SEO build on themselves over time. Search engine algorithms take into account the popularity, relevance, location, and quality of your information before displaying your results. Consequently, you need to ensure your retirement community search engine optimization efforts are taken seriously and are done effectively in order to reach your target audience.