Whether you like them or not A Place for Mom and other senior living referral partners are an excellent source of leads for your senior living community. The problem comes when that same lead gets contacted by numerous communities all at once. A Place for Mom sends the referral lead to their partner communities and it becomes a kind of a free for all. Whoever responds fastest has the best chance of contacting the lead, but if you're the 5th or 6th community to reach out, you basically have no chance. The lead has already confirmed their tour with other locations and they're just sick of being bombarded by phone calls. So, the question becomes, how can you be that first company to respond? This article will shed light on some tactics we've used that have worked well for our clients.
Have an Integration with A Place for Mom
This one goes hand in hand with number 2, but it's important to talk about first. At NextWave, we spent considerable time, energy, and not to mention money to build integrations with A Place for Mom and Hubspot (as well as with Caring.com and Hubspot). The main software we use for lead management and automation is Hubspot, that's why we built it. Regardless of what software tool you use to manage and respond to leads, you'll want to have an integration with A Place for Mom.
Having an integration means that leads will automatically go into your lead management system without you (or a member of your staff) having to manually input them. This might sound like a small thing but it's actually huge. By having leads go automatically into your system there is no lead time between when the lead is created and when you can reply to them (using your automation tools in point #2). If you receive a lead via email from A Place for Mom and have to wait until a member of your staff receives and inputs it into your CRM/Marketing software (and hopefully inputs it correctly without any typos etc) then you're losing precious time in your lead response. Competitors who do have any integration will beat you to the punch every time.
In addition to getting your leads INTO your software, you'll also want to consider a "bi-directional" integration. This means that your software can send data back to A Place for Moms system. This can be a game-changer for senior living companies. If your staff marks somebody as "tour booked" or "moved-in" in your system you can instantly send this data back to A Place for Mom. This means that the reps at A Place for Mom won't need to call you to check up on the status of the lead they sent you! This can be a huge time and frustration saver for your senior living sales staff.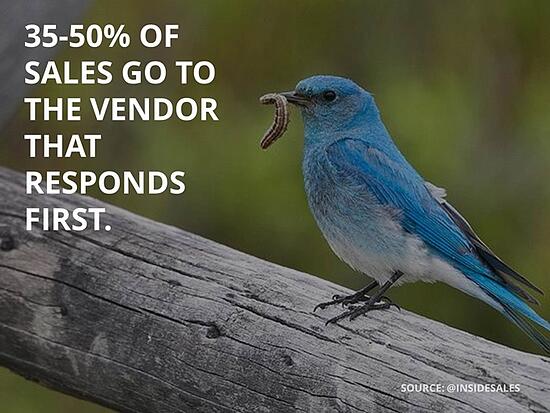 *The data is clear. Respond first and your chances of getting the sale go up exponentially. By having a software integration you can leverage technology to respond first automatically.
Leverage Automation Tools
The next thing you're going to need to have is a marketing /sales automation tool. This is a fancy word for a software tool that allows you to automatically send emails, and texts, and create tasks for your employees to do without any manual effort or input. When the automation "triggers" are set up correctly you can have actions get executed for your staff and save HUGE amounts of time and energy. It's really tough to quantify but for the sake of making a point, you could say that by leveraging automation tools you could enable one person to do the job of 10.
In our example with A Place for Mom leads what would happen is something like this:
A lead comes into your system from A Place for Mom (via your bi-directional integration)

Instantly the prospect is sent a text message, an email, and a task is created for your salesperson to call them (all done automatically via your automation tool)

After these 3 actions happen immediately and automatically, the prospect is then enrolled in a follow-up "sequence." A sequence is a series of actions that are spread out over 7-10 days that automates much of the follow-up with the lead. These also include automated emails, text messages, and tasks for your salespeople - all with the goal of increasing the likelihood of making contact with the prospect.

Once the prospect has been contacted, taken a tour, and moved in, their status gets switched to "moved-in" in your CRM and A Place for Mom gets automatically notified via your bi-directional integration.
Ok, so sounds like a lot, and it is. But I promise that this system is relatively easy to set up and will undoubtedly save you a huge amount of time and frustration. It will also essentially guarantee that you make contact with the prospect FIRST. Unless, of course, your local competitors also leverage such a system.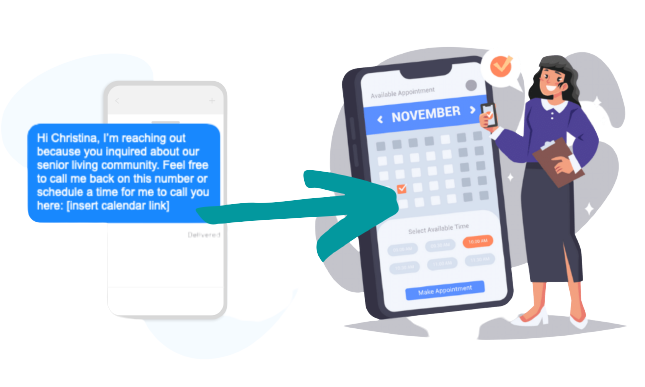 *Above is an example of an SMS template that we use on clients who are incorporating texts into their follow-up process. You can link your sales director's calendar straight from the message and allow the prospect to book a call at a time that works for both themselves and your sales director. And this all happens automatically without your sales staff lifting a finger.
Make a GOOD First Impression
To be honest this last point doesn't really have anything to do with how FAST you respond to A Place for Mom leads. However, if the ultimate goal is to get more move-ins (which I know it is), this step is hugely important. It's important to really embrace the idea that everything that you do will reflect in some way shape or form on your prospect. This includes how quickly you respond to leads, how many times you follow-up, what you say in your emails and texts, and what your interactions are like on the phone. There are a LOT of things that go into making a good first impression and it's important to think closely about each interaction. Each interaction makes an impression on the prospect.
Because this first phase of the senior living sales process is so different from giving tours and closing new business, we've created what we're calling a "first impression system." This system includes the necessary integrations, automation, and sequences that you need to respond first and make contact with your leads. Plus, we take it one step further and include trained sales reps with senior living experience to make the initial contact for you. There are many reasons for this but mainly it's to ensure speed and consistency in your initial outreach. Once a prospect has been successfully contacted, and a tour has been booked, then your sales staff takes it from there. They simply have a schedule of pre-qualified tours booked for them that they need to tour and close.
This allows your staff to do what they do best instead of chasing down leads from the web. By taking lead response and management off your staff's plate you'll achieve better efficiency in your sales process, remove a huge bottleneck and time sink for your staff, you'll increase the number of tours and move-ins by 2-3x, and you'll give your prospects a better, more consistent experience with your brand.
If you'd like to learn more about implementing a system like this at your company just click the button below to schedule a quick 15min consultation with a member of our staff. We look forward to helping you create a competitive advantage in your sales process!