The lifeblood of a senior living community is the occupancy rate at its properties. Senior Housing Occupancy Rates help marketing and sales develop plans using predictive analytics and numbers based on historical data, if they are equipped to do so. By using these numbers, and tweaking their marketing strategy accordingly, senior housing properties can increase their bottom line financials, and increase occupancy. In this post, we'll show you exactly how to use these numbers to your advantage.
Assess Your Current Situation & Set Goals
A good marketing plan starts with knowing where you are and where you want to go. One of the easiest places to start tracking is inbound marketing because many tools and platforms display this type of data. And, unlike print and radio ads, digital marketing is completely measurable.
For assisted living facilities you'll want to ask yourself the following questions:
What is the average number of monthly visitors to your website?

What is the average number of leads per month from your website?

What is the close rate of your sales team in converting those leads to new residents?

What is the lifetime value of each new customer?

What is the current occupancy rate of your facility?

What is your target (or goal) occupancy rate?
The answers to these questions can become goals for your organization. Make sure the goals are realistic but challenging.
If you're wary of the accuracy of your numbers or don't know the answers at all, you're not alone. We speak to many companies who have felt this way.
At NextWave, we help senior living organizations find all the answers to these questions and make the tweaks necessary to improve their metrics, leading to millions of dollars in lost sales. Feel free to set up a call here to discuss with us if it's a good fit to work together.
Work Backwards to Solve for Occupancy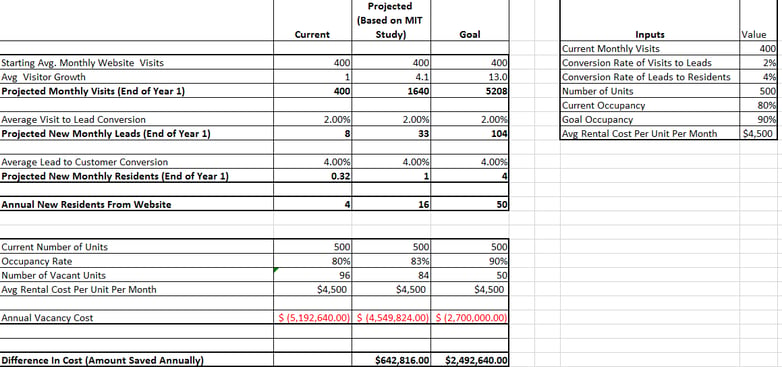 In the example above we're taking a community with 500 units and a current occupancy rate of 80%. Their goal in this scenario is to increase occupancy to 90% by the end of the year. They currently have 400 website visitors per month with a visit to lead conversion rate of 2% and a lead to customer conversion rate of 5%. These stats are pretty typical of what most websites can expect to see.
The left column of numbers in the excel sheet is their current monthly website leads (eight) and their current monthly and annual new residents from their website (four). Further down in the same column, we show the cost of having 80% occupancy or the cost of having 96 vacant units in a community of 500. At an average monthly cost to residents of $4,500/unit it shows that 96 vacant units equates to a whopping $5,192,640 in lost annual revenue due to vacancy!
The middle column is based on stats retrieved from the MIT Study of Hubspot ROI done in 2015. This study compiled data from all Hubspot customers who currently implement an inbound marketing strategy on their websites. The people from this study didn't do anything drastic.
They just implemented a program consisting of regular monthly blog posts including a few downloadable ebooks or gated whitepapers on a landing page to capture leads. The study found that after just 1 year the average visits to the websites increased by 4.1 times!
Using this math, we calculated the monthly visitorship of a site with 400 current monthly visits would have after 1 year of implementing an inbound marketing program similar to other clients we've worked with. We estimate their new traffic number after year one would be 1640 visits per month.
Using the same numbers, the case study example would generate 16 new annual residents. This would equate to an increase to 83% occupancy (from 80%) in a community with 500 units. While the cost of having 84 vacant units is still high we can see the difference in lost revenue on the last line of that column; a whopping $642,816!
This massive decrease in lost revenue is how NextWave can show major ROI for the communities we work with and easily justify the cost of our inbound marketing programs. This is also a reason that many senior living communities are allocating marketing budget to more digital and less print & radio.
The results from digital marketing are measurable, consistently have a lower cost per lead than traditional marketing methods, and at the end of the day, the bottom-line results can be easily proved!
The last column is the amount of monthly visitorship it would take to reach the goal occupancy of 90%. In this example, the website would need to generate 5208 monthly visitors to reach 90% occupancy at their facility through inbound marketing.
That's 13X the amount of traffic it's currently getting. I know what you're thinking: impossible right?! Well, there's another lever in this equation that makes a HUGE difference: increasing the conversion rates of visitors to leads!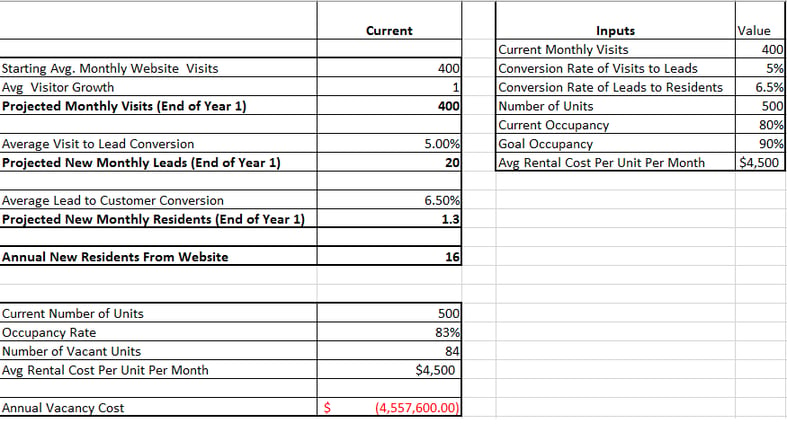 Above we can see that just by increasing the visit to lead conversion rate from 2%-5% and increasing the lead to customer rate from 4% to 6.5% we can receive the exact same final result as the MIT Case Study example after inbound marketing for a year!
By simply optimizing your website to make it more "conversion-friendly" with gated content you can massively increase your bottom line results. In many cases, increases like this are as simple as putting a CTA or "Call to Action" link to a landing page in the sidebar of your website.
An increase of 4% to 6.5% close rate from leads to new residents is very attainable. Some simple phone training on how to schedule on-site tours for your receptionist could make all the difference. This can also be attained by using lead-2-tour techniques for all your new website leads.
With the current marketing automation software tools available it's simple to set up a lead nurturing campaign that will automate the process of turning those website leads into on-site visits and new residents.
Implement a Plan Fit To Your Occupancy Goals
This quick example is just the tip of the iceberg in terms of what can be done when correctly implementing an inbound marketing program on your website. To learn about how to develop your own custom plan for marketing as a senior living organization, set up a call with us here. You can also download our Complete Digital Marketing Guide for Assisted Living Communities below.