When you're making sales calls for your senior living community, you want to make sure that you're approaching potential residents the correct way. By paying careful attention to how you make your senior living sales calls, you can improve your interaction with them and create a better opinion of your community. Use the following tips to help capitalize on your inbound marketing efforts and successfully follow up with your leads.
The Do's of Senior Living Sales Calls
When you're making a senior living sales call, make sure that you: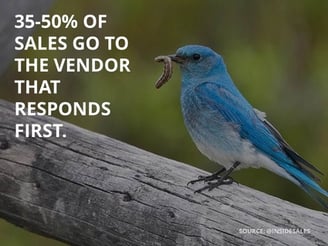 Prepare Before the Call. One of the benefits of inbound marketing for senior living and using a marketing automation tool is that you've already collected a significant amount of information about your prospects. When you're following up with a lead you want to make your conversation as tailored as possible to the prospect. By gathering as much information you can about the lead you'll ensure that you only touch on the most relevant topics for that prospect and tailor the conversation to their needs.
Build Rapport and Take Your Time. Develop a rapport with the individuals that you're calling. Choosing a senior living community is a big decision, whether you're the resident or the adult child. Not only is it a big decision financially but also personally. Make sure to have patience and take your time walking the prospect through all their questions and concerns.
Showcase the Best parts of your community. Talk about what other residents have found about your community that they love. One of the best ways to highlight the benefits of your community is to have a great website and online presence. The reality is that the prospect will have already done research online about your community. Make sure to have testimonials, video, pictures, and a well-designed website to make the most of your first impression.
Schedule a Tour. Once you've gone through all your prospects questions and they seem like a good fit don't forget to get them in for a tour! Be proactive and book a time and date for them to come in while you have them on the phone.

*This graph from Brafton.com is very interesting. It highlights the way that people would prefer to be involved with a salesperson in the purchasing process. While these numbers might need to be adjusted for an older senior living market, it's important to notice that only 16.2% wanted to speak to a salesperson on hte phone to walk though the entire process. This highlights the need for a great website and online presence to answer questions and showcase your community. How many potential residents are looking through your site, leaving because they can't find what they're looking for, and not even bother contacting you?... Make you think doesn't it.
The Don'ts of Senior Living Sales Calls
Of course, there are several mistakes you want to avoid making. Make sure that you don't:
Rush callers through the conversation. This is particularly important if you're speaking to the senior and not to their loved ones. Make sure you take the time to listen to what they have to say. Each prospect will have unique concerns. Make sure to hold their hand and handle each concern before booking a personal visit.
Ignore Their Questions. If you don't know the answer, it's okay to let them know that you'll find out more later! Never pretend to know the answer to something you don't know. A good tip is to have a list of common questions and answers right next to your phone so you can reference it while on the call. Also having a simple Q&A page on your website that you can direct people to will be helpful.
Sell. NOT selling might not seem like good advice for a sales and marketing director. However this is exactly what you need to do. Nobody likes to be sold to. Your job is simply to help the prospect get educated about senior living options and let them come to their own conclusion about which community to choose. You want to think of your role as more of an advisor, educator, and qualifier.
Forget to explain the next steps. Once the call is wrapping up and you've concluded that they're a good fit for your community don't forget to outline the next steps for the prospect. The easier you can make the process for them the better. If the next step is to book a tour, book it while you're on the phone. If the next step is to send them the dining menu, ensure you have their email and add a task in your senior living CRM to do it right after the call. Make sure the prospect is clear on the next steps and then execute them as soon as possible.
"

By the time an actual salesperson gets involved, up to 90% of the selling process could be over and done with"
Follow up calls to senior living prospects is a learned skill. The more you practice the better you'll become. The most important thing is to have a mindset of being helpful. By having the mindset of helpfullness you'll become a great salesperson by default. If somebody isn't a fit for your community that's okay! But by being helpful you'll build a great reputation in the industry and you can also be certain that anybody you take on as a resident will have the best experience possible.