Content marketing is part of a broader inbound marketing strategy to provide your audience with the information they are searching for. Instead of bombarding prospects with commercials and ads, you anticipate questions and needs, and then have solutions and information waiting for the right time.
"Content marketing generates over three times as many leads as outbound marketing and costs 62% less."
- Hubspot
How Content Marketing for Senior Living Works
By focusing on the needs of your audience--families and individuals considering your senior living community--you begin the process of establishing trust. Rather than flashy discounts and pressure-filled pitches, content marketing for senior living allows you to be helpful, personal, and trustworthy to people who visit your website. The vast majority of people searching the internet are simply looking for information. They're not looking to buy something immediately, or talk to a salesperson, they're simply looking to educate themselves. By creating content that actually HELPS your visitors you establish trust and are at the front of mind when it comes time for them to actually buy.
Evaluating senior living options can be a stressful process. People will have many questions, and some will not even know what they should be asking. When you have helpful information on a range of topics ready and waiting for your prospects, they will trust that they are in good hands.

*Creating content for each stage of your "buyer's journey" is key to making the most of content marketing. Content that gets created this way enables you to tailor your messaging to which step in the buying process your prospect is in.
Start Removing Barriers
For the most hesitant of prospects, a reassuring voice through every step of the selection process can ease anxieties. As your content breaks down these barriers, families will feel more confident with your community when it's time to make a choice.
To accomplish this, think about the kinds of questions people will ask--or wish they had asked-and what concerns they might have when choosing a community. Provide answers to questions that arise early, such as why a residential community is beneficial over staying at home, and concerns that are specific to your community like how the move-in process works and whether around-town transportation is provided.
It's also important to offer a bit of personal support, and give some insight as to what an average day in your community might look like. Content marketing will help you achieve this by giving you a platform for showcasing community events, sharing video tours, or even a resident spotlight where prospects can "meet" an individual from your home.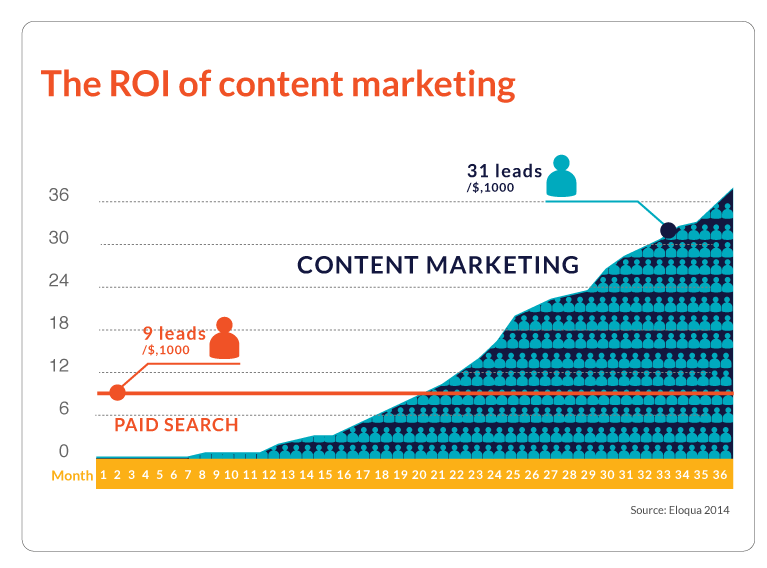 * While PPC can drive quick traffic to a website it doesn't allow traffic to build on itself over time; the way it does with content marketing. This results in a much higher ROI for content marketing over time.
Consistency and Patience Is Rewarded
Content marketing is a long game; results don't always come overnight. However, if you take the time to provide an informative path for prospects to choose your business, your hard work will be rewarded with more than just an increase in leads, but leads who are better qualified as well. Checkout how we increased traffic to our website by over 400% since the start of the year using consistent blogging. Want to learn more and see how to implement a content marketing program for your company? Contact NextWave for a FREE consultation today to discuss your goals for 2018 and beyond.