An often overlooked but critical component of inbound marketing is a compelling call to action or "CTA" for capturing qualified leads. Inbound leads provide a pipeline for your sales force and can increase traffic to your website and on-site tours to your senior living community. Before you start putting calls to action all over your website take a look at our 3 tips for using CTA's for assisted living lead generation. A few small changes to your CTAs can produce dramatic results.
Make it Attention-Grabbing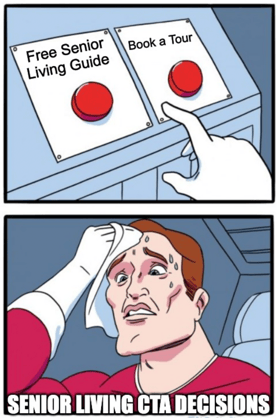 Many businesses miss out on qualified leads because they do not make their CTA's easy to identify. In order to increase the chances to have the adult children of elderly parents who are looking for a community of their peers to discover your senior living center, use the following principles to construct CTA's, expand lead generation, and ultimately increase sales.
Keep it short: Your CTA should fit in the CTA button. In most cases, your call-to-action should not exceed 5 words.
Be specific. The call-to-action should state the benefit of clicking the button. Instead of "click here," for example, try "get my free report."
Be active. Remember the 'a' in CTA stands for action. Keep your CTA active by starting it with a verb.
Avoid high-commitment propositions. Commitment is difficult for online searchers. You'll have more success with low commitment wording, such as "reserve your spot now" than you will with high commitment wording, such as "sign up for an appointment."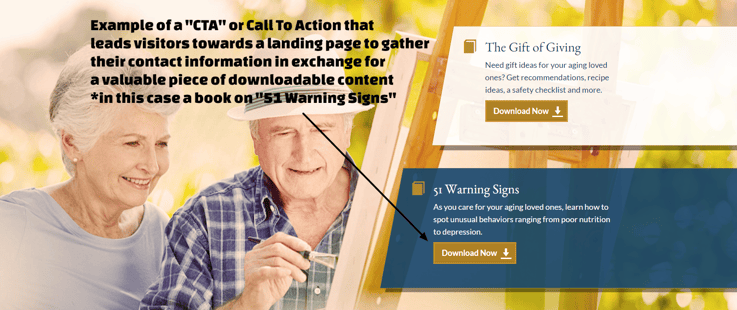 "Personalized CTAs convert 42% more visitors into leads than untargeted CTAs."
- Hubspot
Know Your Audience & What Buying Stage They're In
A study that analyzed over 93,000 calls-to-action conducted by Jeff Russo at Hubspot showed that CTA's directed toward specific individuals were clicked 42% more often than those directed toward a generic audience.
Although all individuals in your target audience have needs that your senior community may be able to solve, not all may be in the same stage of the buyer's journey. The buyer's journey is "the process buyers go through to become aware of, evaluate, and purchase a new product or service." Your CTA's need to address these different stages with specific CTA's.
Awareness Stage: The buyer realizes they have a problem. (In this stage something general such as a CTA and ebook on "How to know if your parents need assisted living" - this ebook will attract leads who realize that they may be making a buying decision shortly.)
Consideration Stage: The buyer defines their problem and researches options to solve it. (In this stage a good CTA and ebook might be "how to choose the best-assisted living community" - this ebook will help your prospect while in the consideration phase.)
Decision Stage: The buyer chooses a solution. (A CTA for this stage could be a "request a quote" or "schedule an on-site tour" button. This CTA is geared towards an educated prospect who is ready to make a buying decision.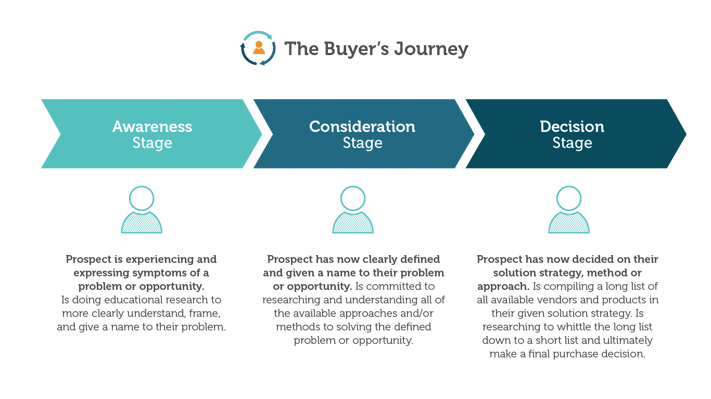 *Outline of the buyer's journey. Something to keep in mind whenever creating CTA's and downloadable offers.
Choose Your CTA Placement Wisely
A CTA should grab the visitor's attention but should also be placed on a page that corresponds with the content of your offer. For example, this blog post is written on CTA's and lead generation, therefore we included a CTA at the bottom of this post for our lead generation ebook. The logic being if a website visitor is on a page about senior living lead generation that's a good sign that an ebook on lead generation would be a relevant offer that the reader might find useful. A good call to action should always be offering something useful to your intended audience.
As you craft your capture pages and calls-to-action, constantly ask yourself what commitment level the person who is reading this is at. Also, make sure that whatever page or post you put it on corresponds well with what your CTA has to offer. To learn more about lead generation, CTA's, and inbound marketing for senior living download our ebook by clicking the button below.