A high quality marketing video increases brand recognition, generates leads, and promotes the value of your senior living community in ways a blog post or social media post cannot. Producing a high-quality video requires more than hitting the record button on a smart phone. Below are five tips you can use while creating video for your next assisted living content marketing campaign.
1.) Provide Value with Engaging, Relevant Content
Your video needs to provide value to your target audience. The best videos answer questions your audience is already asking. A YouTube search for "senior living community" brings up over 700,000 videos. So why would someone watch your video? Or, more importantly, why would someone in your target market watch your video?
Plan for your target audience. Determine the main goal of the video. Create a concise, engaging message about your community. If your video solves a problem or answers a specific question about senior living, present the solution in an engaging manner. If your senior living community has a streamlined enrollment process, show the viewer how it's done. When your content is relevant and engaging the viewer you can help them to feel more comfortable trusting their loved one with your senior living community.
52% of marketing professionals worldwide name video as the type of content with the best ROI - (Syndacast).
2.) Make Videos the Right Length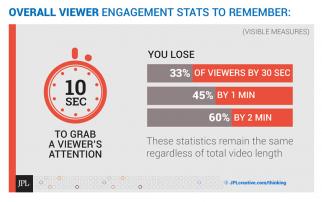 There's no video length that magically generates leads and brings in customers. The length, organization, and content of a video depends on the video's purpose, your goals in making it, and where the video will be posted--company website or social media, for example.
Statistics show that if you have not fully engaged your audience after the first 30 seconds, you've likely lost 33% of viewers; and after one minute, 45% of viewers have stopped watching. When creating and editing a video, abide by sound online marketing video principles.
Make it concise. Save superfluity and fluff for blog posts. Be as concise as possible, without sacrificing essential content. You don't have much time to engage your viewer.
Avoid lengthy introductions. Long, drawn-out introductory sequences and intros with too many graphics, personal introductions, or explanations will drive viewers away before they get to the critical information.
Put the important stuff first. Capture the viewer's attention by beginning the video with key elements. This sets the tone for the video and lets viewers know what to expect.
3.) Engage with High Quality Video and Sound
You don't need thousands of dollars of equipment to create a successful, engaging, and shareable marketing video these days. However you do need to pay careful attention to a few aspects of audio and video quality. Maintaining good sound and image quality is essential and can be done with a good smart phone. Here are additional pieces of equipment that will promote high quality video and sound.
Tripod. Shaky video annoys viewers. An inexpensive tripod eliminates video shakiness.
Supplemental Light. Although natural light works best, you may need supplemental light for indoor videos.
Microphone. Mumbling is bad for business. Get a microphone close enough to your subject that viewers can hear clearly.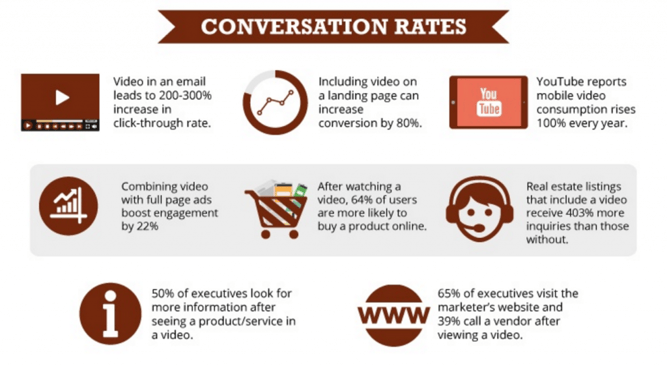 (Some amazing Stats on video marketing)
4.) Optimize Your Video for Search Engines
It won't matter how engaging your video is or how brilliantly it answers the questions of your target audience if nobody views it. Search engine optimization (SEO) begins with the right title of your video. Keep the title short and engaging. Use keyword research to determine what language your target audience uses when searching online. Your video description should contain keywords that relate to video content and mirrors the language of your target audience.
Other considerations for boosting SEO for video include:
Name your video files correctly.
Provide a video transcript.
Create voice translations if your market includes non-English speakers.
Add Tags to your videos once published on Youtube to reflect the topics you want to be found for.
5.) Share Your Video Across Multiple Platforms
Once you've completed your new video don't rely solely on organic traffic to get exposure. Leverage your social media marketing team to share your new piece of media content. Know your target audience's online and social media behavior and make sure your marketing platforms reflect this behavior.
For a solid beginning, upload the video to YouTube - the world's second largest search engine. Publish the video across your different social media channels and analyze the views and statistics. In short, if you've produced a high quality video that you want your prospects to see you need to promote it!