Are you still using a basic Excel spreadsheet to manage your CRM (Customer Relationship Management)? It's time to graduate to a CRM that's developed solely to help businesses manage their customers and potential sales. But there are so many different CRM methods available to senior living communities it can be confusing to decide which one might be best for you. If you're not sold on the idea of using a CRM for senior living lead generation and lead management take a look at the benefits listed below.
Manage your Existing Residents
You've undoubtedly heard the theory that it costs less to retain a current client than it does to find a new one. Using a CRM to help you maintain your current client database can help you quickly identify and react to your their needs. Would your clients benefit from additional services? Do they have other friends or relatives who would be interested in your facility? These are things that a CRM can allow you to see right away and act on, which a basic spreadsheet does not. You can track when your last interaction was with that customer and which offers you've sent they've responded to. You can also effectively ask for testimonial and referalls and keep track of everything in one place. If current customer management is one of your main concerns make sure, an effective CRM is definitely something to consider.
"On average, sales and marketing costs average from 15%-35% of total corporate costs. So the effort to automate for more sales efficiency is absolutely essential. In cases reviewed, sales increases due to advanced CRM technology have ranged from 10% to more than 30%."

- Harvard Business Review
Effectively "Nurture" Your Existing Leads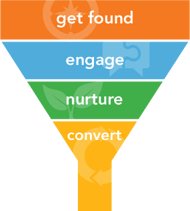 If one of your main concerns is managing inbound leads from your website, email list, or other social media efforts a CRM system is crucial. And consider that a new lead often needs to be nurtured and managed over time before they're converted into a sale. This is especially true with senior living marketing. There's typically a 1-18 month window where somebody is deciding which senior care facility to choose. In the buyers journey this is know as a "consideration phase." This is the period of time where inbound marketing and lead nurturing are extremely important. The HubSpot CRM is well-known as an effective CRM for lead management, lead scoring, and nurturing leads into becoming new customers.
"79% of marketing leads never convert into sales. Lack of lead nurturing is the common cause of this poor performance."

- Marketing Sherpa
Create "Closed-Loop" Marketing & Reports
The concept of "closed loop" marketing and reporting is a relatively new one. This means that not only can you see where your leads are coming but that you can create a system that integrates with your sales team as well. This enables you to close the lead as a customer in your CRM and see each action they took on the path to becoming one. By being able to "close the loop" on your marketing and sales efforts you can more effectively allocate budget and effort to the areas of marketing that are actually producing new customers based on real data. For example, with closed loop reporting you might find that 60% of your new customers in the past month can be tracked back to a blog post that you published 6 months ago and promoted on social media. You'll be able to see that they came in through a Facebook ad that you ran, read the blog post, downloaded an ebook that was linked from the blog post, and took an average of 3 automated emails to convert them into an on-site tour. After the tour they had an 80% chance of becoming a customer. This is all data that even 5-8 years ago you were not able to see; especially not from an all-in-one- marketing automation CRM like Hubspot.
There's a variety of senior living CRM options these days. While we're a Hubspot-partnered inbound marketing agency, and truly feel that they are the best CRM, we implement our services into any CMS or CRM that you're working with. Unlike many other senior care CRM's Hubspot is also extremely integration-friendly. It can be used as an addition to your current system or be used as the entire system, it fully depends on your communities needs.
Contact NextWave to help you develop a plan to use your website and content marketing to decrease vacancy rates in your facility while increasing your bottom line. Get started today and create a fully customized inbound marketing plan for your community.