In the process of converting leads to buyers (OR residents in senior living communities), an efficient system for collection, storage and retrieval of accurate prospect data is critical. Using paper and spreadsheets used to be enough for tracking prospects and following up. However, times have changed. Senior living sales professionals need a way to access prospect information quickly and track their sales process effectively. Out of this need came the Customer Relationship Management (CRM) software industry. Below we've outlined some specific ways in that a senior living CRM can help your company attract and convert new residents.
What is CRM Software?
CRM or "Customer Relationship Management" is a software tool that businesses can use to fulfill its sales, marketing and customer support functions from start to finish. It helps the sales team track prospects through the entire sales process,- and helps them make the sales process much more efficient. The CRM serves as the centralized storage of customer data so that managers can quickly review important information about a lead or prospect and make smarter business decisions about which steps to take next. In short, it's a must-have tool for any community that's serious about improving their senior living sales process.
"Customer relationship management (CRM) is a technology for managing all your company's relationships and interactions with customers and potential customers. The goal is simple: Improve business relationships. A CRM system helps companies stay connected to customers, streamline processes, and improve profitability."
- CRM Definition from Salesforce.com
How can a senior living CRM help communities acquire new residents?
1.) By creating a better sales experience for both prospects & residents
The CRM software can provide data management for your senior living community. It serves as an internal database for gathering information about your prospect/resident throughout the sales process. Your team can easily make notes of certain characteristics, likes, dislikes, special needs etc that your potential residents might have. Your staff can then reference this online database anytime to find information and better serve their prospects with a more personalized sales pitch. In this same way it can act as a type of retention tool for existing residents. If you know how best to provide good community experience that's personalized to a new resident, he or she will be more likely to stay.
2.) By helping to streamline activity & monitor sales staff
It is easier to see what each member of the senior living community sales and customer support team did and when using the CRM software. In turn, it allows proper monitoring and channeling of what needs to be done, such as following-up on a new lead or sending a proposal. The ability to monitor the activity and effectiveness of your sales teams is a hugely valuable component of senior living CRM software tools. It offers a transparent way to see which sales staff members are producing results and also allows you to see the steps they took to get there. This results in a more a more motivated and effective sales team.
*The productivity of sales people (especially when an easy to use mobile CRM is in place) can be huge. If you're implementing a CRM for the first time it could be a game changer for your sales & marketing department.
3.) By Helping to Nurture Prospects & Build Trust
Don't underestimate the importance of lead nurturing throughout the sales cycle. The only way you can earn the trust of your lead or new resident is through relationship building. The CRM software helps your sales team establish a connection with your lead by providing essential data.
It's not enough that you know someone wants to join your senior living community. You should also know other information about your prospect – his goals, needs, values and the things that influence his decisions. By knowing how to address these things that are specific to your resident, surely, he will be very happy with the quality service he will receive. A CRM that's integrated with a marketing automation software tool like Hubspot can be hugely helpful in reaching prospects with personalized, highly targeted messaging throughout the sales process.
"96% of visitors who come to your website aren't ready to buy (yet). "
(Marketo)
4.) By providing the ability to visualize & analyze your sales process
The CRM software provides quick insight as far as business leads, community occupancy and other key performance indicators are concerned. This helps the community sales director to make wise decisions based on information gathered from previous sales interactions. By knowing which specific actions took place to result in a successful sales process your team can better replicate and improve upon this process. A CRM allows you to visualize your sales process through reporting and identify which tactics are working and which areas need to be improved.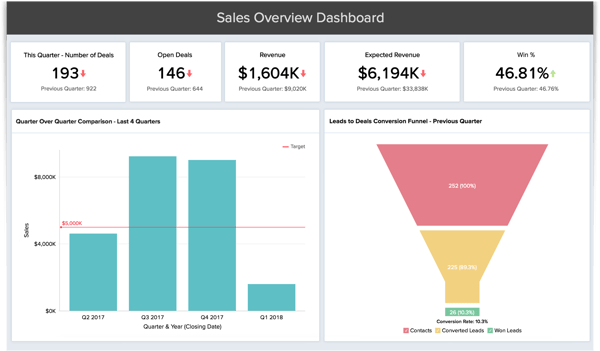 *A CRM can help your team visualize the full sales funnel. You can then pick areas and metrics to improve up on in a consistent and systematic way.
Setting up the senior living CRM software for your company entails cost and time, but this should not keep you from adopting this very handy tool. Click the link below to download a free guide to choosing a senior living CRM. We'd also be happy to setup a free 15 minute screenshare to show you the back-end of what a senior living CRM would look like once fully setup.