With the amount of potential clients available, senior living facilities shouldn't accept high vacancy rates. Using content marketing for senior care as a central strategy, your website can reach more potential clients and generate more leads. In this regard, here are 3 ways content marketing benefits senior living facilities.
1.) Establishes Brand Value and Recognition
Content marketing is more than just a business's blog, rather it encompasses the entire spectrum of content creation, including: videos, social media posts, landing pages on website, product descriptions, ad copy, blogs, newsletters, video CC transcription, and more. Indeed, content marketing is central to establishing brand value and recognition.
No matter how large or small the senior living facility is, filling vacancies to peak occupancy is a universal goal for executive management. Most already have an online presence, yet their overall marketing strategy isn't effectively taking advantage of the innovative online marketing techniques and tools available today.
Content works to create brand value for businesses, by projecting their values through shared content; recognition of this value by the target audience is what content works to achieve. With positive brand recognition, senior living facilities will attract more leads and referrals. With a continuous and effective content marketing effort, brand recognition and value will be solidified in local regions and across the country.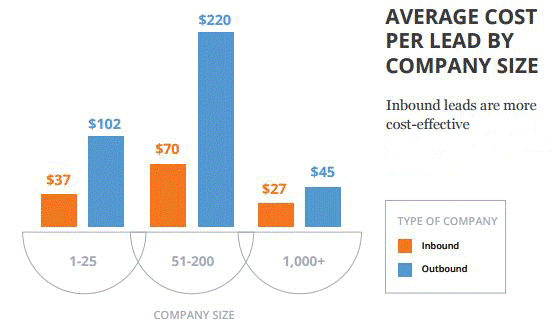 *This chart shows that inbound marketing (which is comprised mainly of content marketing) is especially effective in mid-sized businsess. This means that the smaller guys not long have to compete with the big player soley based on monday! It starts to even the playing feld!
2.) Content Focuses on Generating Leads
Content marketing focuses more on peaking the interest of potential clients and provding knowlegeable material for the "midde of the funnel" prospects . Middle of the funnel prospects have already acknolwedged that they have a need and are now looking to get information to helo them make a decision. Content can include content in the form of: videos, articles, newsletters, emails, social media content, etc.
Your senior living communities blog is the usually the biggest source of content available to share and use for online marketing efforts. For example, articles can be shared and used for: email marketing, social site posting, syndication in related industry publications, guest bloggers, ebook material, website copy, and more.
"Marketers who prioritize blogging are 13x more likely to achieve a positive ROI on their efforts"
- State of Inbound
Videos are also an effective way to create content, especially, for senior living facilities with luxurious accommodations and beautiful facilities to highlight. The quality and content of the video are important, as is knowing how to effectively use the end result for content marketing efforts. For example, facilities can use videos for:
client testimonials

tours of facility

topics of interest to seniors (health, investment, family, etc.)

local community guide

message of business's values
Content works to peak the interest of the targeted audience, drawing them to eventually put their email in a lead capture form. Correcting using landing pages with great downloadable content offers is a great way to get leads. In this scenario the prospect is willing to give up their email, name, and other info in order to download a piece of useful content. For examples checkout our resources page or downloa our free guide to lead generation for senior living facilities.
3.) Establishes your Senior Living Community(s) as a "thought leader"
Essentially, this is the main theme and intent of the content being created, to: educate, train, and inform the target audience. As a result of doing this your senior care community will start be seen as a "though leader" in your industy. Thought leaders are the informed go-to people in their field of expertise. They are trusted sources who move and inspire people by demonstrating how to replicate success. This is exactly what having good quality blog or downloadable content can do for your business.
Ebook: How to Know if Mom or Dad needs Senior Care

Whitepaper: The Full Cost Anlysis of Assisted living.

Guide: How to prepare for losing loved ones

Blog Post: 3 tips for staying in touch with family members in Assisted living

Video: How to safely help seniors get around
These and many other ideas can be chosen to educate, train, and inform the target audience. The valuable information and knowledge will be favorable to: search engines, potential clients, the workforce, a loyal client base, the local community, and the industry at large. This favorability will manifest into increased inbound links, website traffic and leads. Having a senior living website that's optized to take advantage of this new traffic is very important. Try reading our blog post on 3 Website Optimization Tips for Senior Living Facilities.
"Marketers that use blogs receive 67% more leads than those that do not."
- Hubspot
Summary
The main objective for senior living facilities is to fill vacancies; content marketing is a low-cost, effective way to meet this objective. Small to mid-sized facilities can use content marketing to compete with big guys. In the old days the would say marketing depended on the size of your wallet; with content marketing it's about the size of your brain.
Content marketing is a very effective method to reach potential clients and fill vacancies in senior living facilities, especially, when done with expertise and quality. Successfully running a content marketing campaign takes lots of time and strategy. Often facilities will outsource their senior living content marketing to a professional service with vertical expertise and experience.
Using an Agency Vs Hiring In-House
NextWave offers to be this outsourced expertise for senior living facilities. With 10 years of experience in digital marketing and online lead generation, HubSpot certifications, and proven methods that work – NextWave is up to the task of helping facilities fill their vacancies with innovative content marketing efforts. Not fully sold on hiring an agency vs hiring for the role in-house? Read out ebook below to helo you make your decision.