As baby boomers age, more and more families are searching for independent living options for their seniors. And, with the Covid-19 pandemic causing the world to rely on the internet more than ever, it's a guarantee that most potential residents (or their adult children) will use the internet as their tool to make an informed decision on the senior living communities they want to tour or eventually live. This makes having a strong digital marketing strategy a requirement to compete with larger, national brands.
In order to differentiate yourselves and help convert more leads, we've come up with three essential independent living marketing ideas that your community can implement quickly. These ideas will make your community visible to local prospective residents (as well as when marketing senior living to adult children) and will enable you to differentiate and show value - instead of trying to compete - with the larger national senior living brands.
(Click here to Download Our Comprehensive Guide to Independent Living Marketing Ideas for FREE!)
1) Get Listed and Verified on "Google My Business"
This is perhaps one of the simplest and often time most overlooked things you can do to optimize your community for senior living SEO. Google my business is a way for Google to verify your physical location and tie your website, google maps, and your search results altogether.
Simply visit Google Business, sign in to your account, and search for your business on Google maps. Once you have your address and listing information correctly input Google will mail you a postcard to that location with a PIN number.
Entering this PIN number back into your Google Business page is how Google verifies that you are actually at that location and the correct person is verifying it. This step is crucial. Once verified and your Google plus page is properly tagged and categorized, your local search results will improve.
By verifying your location Google now knows that an "independent living facility" has a verified location in your town, and will be pushing this information to your perfect customers. Your facility will start to show up when people use a local modifier to search such as "Independent living facility near Boston, MA." This simple step will greatly help your senior living search engine optimization.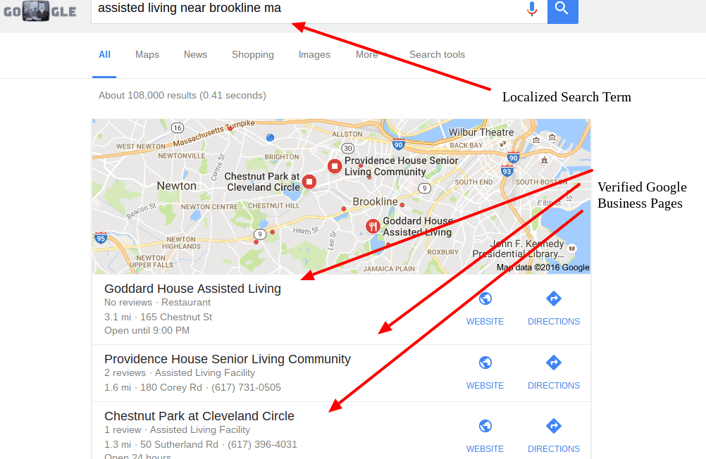 *Localized Search Results. Same as your potential new customers would input when researching.
2) Get a Professional Quality Video of Your Community
Videos help prospective clients visualize what it's like to live in your community. Some studies show viewers retain 95% of a message when they watch it in a video compared to 10% when reading it in a text. People love watching videos!
Getting a pro-quality video is a great investment. Find a great production company or filmmaker to help out. We recommend trying to find a referral first, someone who's done work with another business you know. However, you can also find them by conducting a local search on Google and finding verified businesses to research. See how this comes full circle?
Depending on the quality and amount of time it would take to shoot, and production involved, a video may cost a few hundred to a few thousand dollars. We also recommend getting a few quotes if you're soliciting multiple vendors. Remember this is an investment that often becomes the first impression of your community, so don't skimp.
The video can include interviews with staff, testimonials from existing residents, and a full tour highlighting the best parts of your facility. Ask if they'd be willing to give a short quote about their experience (assuming it's a positive remark). A study from Dale Carnegie states that "91% of customers say they'd give referrals. Only 11% of salespeople ask for referrals." ... So don't be afraid to ask!!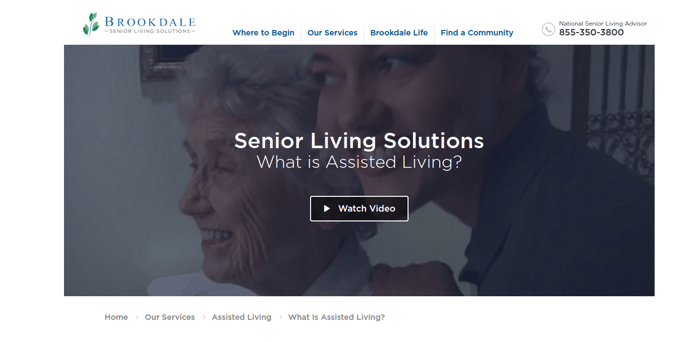 * There's a Reason Brookdale has their video front and center on their website... It converts!
3.) Establish Yourself as an Expert Via Content Marketing
82% of buyers viewed at least 5 pieces of content from the winning vendor (Forester Research of Cambridge). This stat is a testament to how high-quality, helpful content on your website can draw in potential clients searching for your help.
Potential residents are doing their research at multiple stages of the decision process, and we recommend you create content and calls to action at all stages. Well before talking to a salesperson at your company, people usually are navigating multiple pieces of content from a variety of communities, which is why content marketing is key to your success in the digital age.
The more informative and valuable content that you have on your site the more likely a potential prospect will see you as a "thought leader" in the industry and somebody they can trust. By creating great content on your website such as blog posts and e-books you'll be giving value and guidance upfront.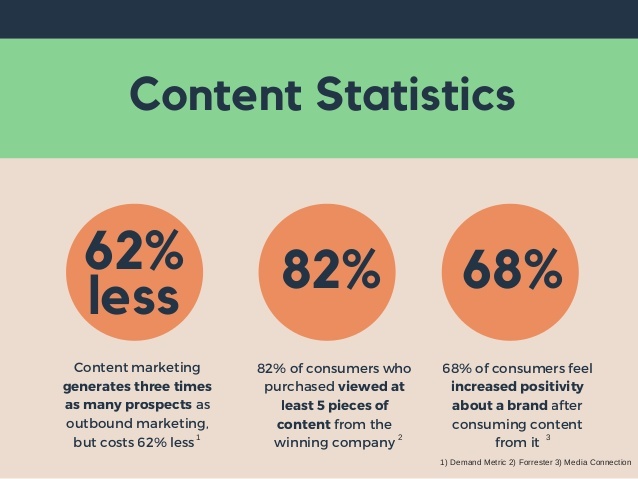 You could offer e-books such as "How to Know When Your Parents Need a Senior Living Facility" or a blog post on "3 Steps to Finding the Right Assisted Living Facility for Me," which helps them make progress on their journey to an informed decision. And when the time comes for them to make the ultimate decision on whom to purchase from, they'll remember you and your community as the experts.
To learn more about independent living marketing and assisted living marketing download our free guide below.