As you all know the sales cycle in senior living can be much longer than your usual product or service. This makes sense - it's a fairly big purchase decision for any potential resident or adult child to consider. Buyers, whether the senior themselves or the adult child of a senior, will want to do a lot of homework before choosing a senior living community. Part of the inbound sales process is to provide your prospects with the right type of content at the right time to help aid them in their purchase decisions. The following are a couple examples of content you'll want to equip your sales staff with and have ready to show potential residents.
Types of Content for Senior Living Inbound Sales:
Case Study/Testimonials:

A case study or spotlight on your favorite residents is a great way to highlight your community and staff. Ask around your community for anybody willing to do a interview or quick video where they talk about their experience. This could also include interviews or quotes from the adult children as they are often the ones doing the research online. This is a great opportunity to steer the conversation and video towards the areas of your community and process that you want to highlight.
"Customer testimonials and case studies are considered the most effective content marketing tactics, identified by 89% and 88%, respectively, of B2B marketers."
Blog Content for Senior Living Sales
Your potential residents and their adult children will have a ton of questions when they begin their search for a senior living community. They typically have so many questions they don't know where to start. And since many people hate to pick up the telephone and call to ask a human being, they turn to guess who? Google.
One of the best ways to rank in search engines like Google and show up in search results is to create content. A blog is a perfect way to do this. When your blog posts has the right title and content to do with what people are interested in learning about Google will help that post to show up higher in search results. Each new post you publish is a new chance to show up in a search result from one of your potential residents. A great way to start thinking of content for your blog is to think of the typical questions that your staff gets asked by prospects. For example, what's the difference between assisted living and independent living? How much does it cost? What services do you provide? What amenities does your community have? Does insurance pay for this? And on, and on.
"Featuring a blog as a key part of your website will give you a 434% better chance of being ranked highly on search engines."
If you can create blog content that answers people's questions you'll be much more likely to show up in search results when people turn to the internet to start doing their homework. Once blogs are created your sales staff can use them by sending prospects links in their emails to content that the prospect is interested in. To learn more about blogging for senior living visit our blogging page, or schedule a consultation and we can help you create a full content calendar of ideas to post about.
A Downloadable Guide: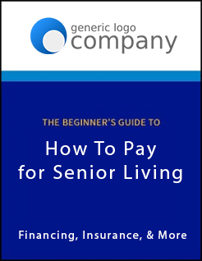 Example: Financing Options or Cost Comparison E-Book
A downloadable piece of content is very important in both inbound marketing and sales. The right piece of content at the right stage of the buyer's journey can make all the difference in somebody choosing your community over the competition. Something more specific like a finance guide will attract those prospects who are further in the buyer's journey and looking for information on pricing. When they download this guide you can use the form on the landing page to collect information about their move-in timeline, and financial qualifying questions. This can help your sales people to spend time following up on prospects that are pre-qualified depending on how they answer the form questions.
These are just a few content ideas that your sales staff can use when reaching out to prospects. Each piece of content can highlight your communities strengths, help to answer your prospects questions, and help qualify your prospects to make sure they're a fit for your communities. Content is a key component of inbound sales and should be taken just a seriously as content marketing in general. Schedule a free 15 minute consultation to talk more about how you get started creating a content plan for your community today.