Chatbots are gaining more popularity in the marketing industry as they bring a new way for businesses to reach their customers. A study by JD Power found that live chat has become the leading digital contact method for online customers. And that a staggering 42% of customers prefer live chat compared to just 23% for email, and 16% for social media or forums. While it's gaining in popularity as a whole we feel it could be even more effective in the senior living industry; especially if your company relies on paid directory listings like "A Place for Mom." Read on to learn a few of the top benefits of chatbots for senior living.

1) Improved Customer Experience
A survey shows that 83% of online shoppers need support during shopping. So, your customers may require help trying to understand which products fit their needs/budgets any time of the day. A chatbot will provide real-time assistance like a sales person in a real store, offer an interactive communication where they also ask questions to understand the real problem. Using text and voice, they can present customers rich content with product pages, images, videos etc. This means that a chatbot will provide an extensive customer assistance, always-available customer support and proactive customer interaction. Read about how to setup Facebook messenger auto-reply.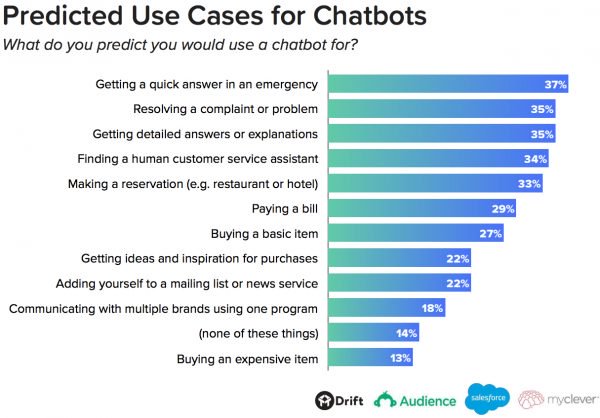 *35% of people said they'd use chatbots for getting a detailed answer or explanation. If you had the chance to answer a question before your competitors wouldn't you want to have that advantage?
2) Better Engagement
It is important to keep your customers engaged with your brand when they are evaluating senior living options. This is one of the reasons social media has become so powerful for brands in the past 10 years. Studies have shown that engaging customers through social media can increase your sales numbers by as much as 20% to 40%. A chatbot adds to the experience because a it enables prospects to engage with a member of your staff immediately. This level of engagement with potential prospects has never been done before the rise of chat messengers.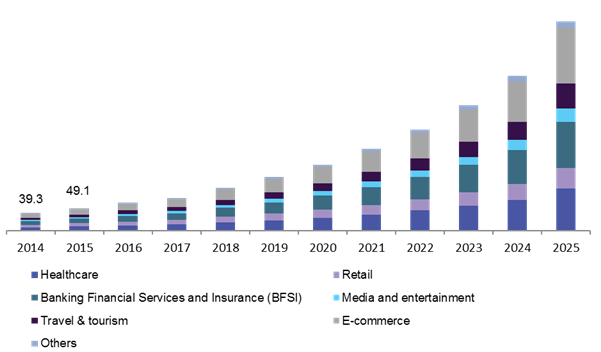 *This graph shows the US chatbot market through 2025. The healthcare market is poised to grow in leaps and bounds the next 4-5 years.
3) Employee Cost Savings
Marketing automation and AI can have huge advantages when trying to grow a business with limited resources. When setup correctly chatbots are able to do a lot of the work that your sales staff used to have to do manually. Since chatbots are automated solutions, they allow organizations to handle many customers at once, and simultaneously. By "employing" chatbots that complements human agents, you will not only save on employee costs but you will also avoid the problems caused by human errors. As you continue to improve your chatbots they will begin to be indeciferable from human interaction online....scary isn't it? But also effective and efficient.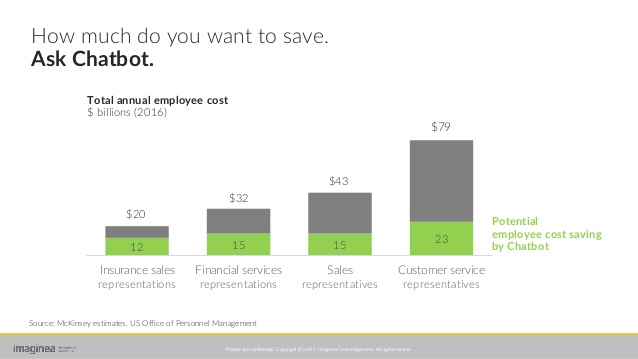 "By 2020 85% of all customer interactions will be handled without a human agent"
4) Online Directory Leads Cost Savings
This benefit is big specifically for those in the senior living industry. If you're familiar with the business model of certain paid directory services you'll know that they charge based on whether or not they received a lead first. Even if you received the same lead you would need to prove that they came in through your website before a directory site in order to avoid paying the hefty commission fee. Chatbots, lead flows, and embedded forms can all help reduce this cost by making it easier and faster to register a lead on your website. All these tools increase conversion on your website and enable you to stamp a new lead with a time and place they came in from. This ability, and increase in conversion or website visitors, can greatly reduce the cost of any paid lead campaign you're running through a directory website.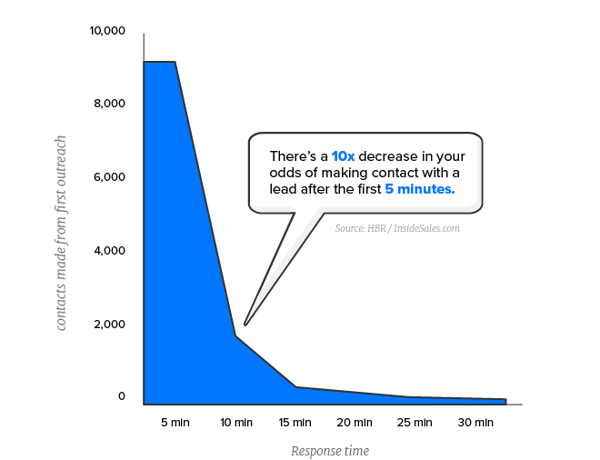 *This chart shows the huge impact of response time. After just 5 minutes your chance of even making contacts with a lead decrease by 10X. Automation is key to immediate response.
Hopefully these benefits got you thinking about senior living chatbots and what they might be able to do for your business. At NextWave we've setup many different chatbots to help connect with and qualify potential prospects. If you're interested in learning more about chatbots and other ways to increase the number of leads from your website click the button below for a free 15 minute consultation.