The way people communicate today has changed immensely following the flow of technology. With the emergence of messaging, conversation between people happens fast and more spontaneous. Even when communicating with businesses, 90% of consumers prefer to use this method now because they get the answers to their needs quickly. It has benefits to the business as well. One of which is the significantly shorter sales cycle.
What is Conversational Marketing?
Conversational marketing is the new marketing approach that companies use to communicate with their customers one-to-one. Instead of using landing pages with lead capture forms and sending follow-up email messages (which are not that effective), this method uses targeted messaging in real-time on a website. Intelligent chat bots engage in a conversation with website visitors, which makes the interactive experience more personal and effective in converting website traffic to leads. How does this conversational marketing work?
Conversational marketing basically involves three steps: Capture, Qualify and Connect.
Capture

First, capture leads using chat messaging on your website. A person cannot operate chat messaging 24/7. But chat bots can, so messaging will work even when you're offline. The system automatically captures all the contact information customers provide during a conversation.
Customers may initiate the conversation when they want to ask questions. The chatbot can also initiate the conversation to offer assistance to browsers of your e-shop or repeat visitors.
Qualify
Second, qualify leads now and not days later. According to Harvard Business Review, the best time to qualify a lead is within 5 minutes of initial contact. Chat bots can ask qualifying questions and get a response from target leads instantly. Doing so will provide the sales team with leads that match the company's ideal customer.
Connect
Third, connect leads to the sales team to close the deal. Closing sales is still the job of a person. Chatbots can simply connect a lead to the sales team (that is most accessible based on location) or schedule a meeting between them. Then, the sales team can simply come to the meeting and focus on selling.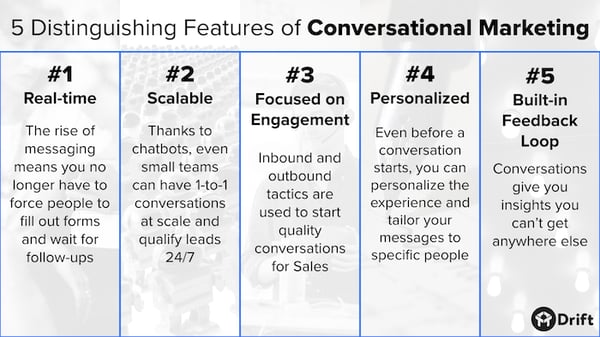 *The main features of conversational marketing tools from Drift
What are the Top 5 Benefits of Conversational Marketing
Now that you know what conversational marketing is, let's take a closer look at how businesses can benefit from using this new marketing method.
Learn more about the customers. Through real-time conversation with customers, businesses can easily know how they landed on the site, what they were looking for and what products they are interested in. The above-mentioned information may not be obtained if lead forms were used to collect the customers contact details.
Customers get to talk to a "person." With chat messaging, a website comes to life. Customers get a "hi" or "hello" greeting as they visit the site and they can express their concern to "someone" any time they want.
Get more leads with conversational marketing. Many visitors to a website do not fill out the contact forms they are presented with. But chat messaging seems to be a good alternative to get the visitor's attention and they willingly provide their contact information.
Close the sales cycle faster. Because leads are qualified right from the time the chat messaging started, the sales team does not take long before being able to close the sale cycle. Based on the data of businesses using conversational marketing, their sales cycle is about 3 times shorter compared to other methods of marketing.
Improve the sales pipeline. The sales pipeline is a lot more effective when integrated with conversational marketing. It helped RapidMiner get over $1 million in sales.
If you own a business website and you want to get more leads and sales, don't be stuck with the traditional forms of marketing, e.g. making cold calls, direct mail, etc. Instead try and incorporate the use of conversational marketing, so you can capture, qualify and connect the leads to the sales team for a faster closing of sales.