If there's one step in the senior living sales process that's critical to acquiring new residents it's the community tour. Each member of the marketing team should understand how important it is to get the tour right. Giving a good community tour is the key to realizing the goal of achieving a faster move-in rate and capitalizing on all the hard work that sales and marketing has done in qualifying and nurturing the prospect. Don't let a bad tour process keep you from a great lead to move-in rate. Take a look at our senior living sales tips below on how to give better community tours.
The Importance of Good Community Tours
Caring.com, a website frequented by aging parents, spouses and their loved ones for senior living information and support, conducted a survey that could enlighten us on the importance of community tours. The survey results showed that about 83% of prospects visited more than one senior living community before making a decision. The breakdown of data is as follows: 17% of the prospects went to one community tour, 25% went to two, 24% went to three and 34% went to four or more.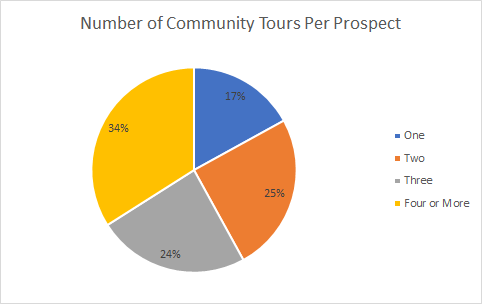 *Average number of community tours per prospect according to Caring.com study.
This survey also came out with this interesting statistic about move-ins. Of the 66% that toured a senior living community within a period of 6 months, 40% already moved-in while 8% were about to move-in. This shows that community tours certainly have an impact on the move-in rate.
If you don't want to waste the time and effort you spent during the sales process building a relationship with your lead, you need to make sure that you are prepared to give a good tour that would help seal the decision to move-into your community. How can you do that? Keep on reading this article to know some tips that would help you improve tours in your senior living community and increase your move-in rate.
3 Tips to Increase Your Move-In Rate During a Tour
Don't give your prospect a community tour that is just like the others – a checklist of features. Offer your prospects an experience that they will not forget. Let them feel right off the bat that they belong in your community and try to tailor their experience to their needs and interests. Here are three ways you can do this:
Introduce them to a Resident
It can be hugely helpful if your prospect could chat with some residents currently living in your community. Try to find and introduce residents who genuinely love and enjoy the community. More than likely you'll be able to find an existing resident who will be happy to share their experiences with your prospect who may have the same interests. If your prospect could just feel the connection with those people in the community, it may just be the contributing factor that would help them make the decision to move into your community.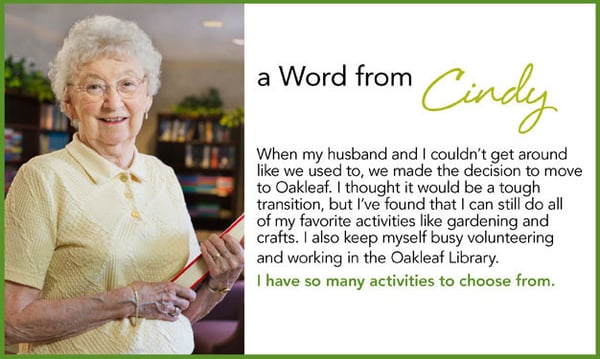 *An example of getting a testimonial from an existing resident. In addition to introducing a prospect to an existing resident in-person, it's also great to get testimonials for your website.
Enjoy a Meal Together
One thing that you should never forget when giving tours is letting your prospect sample the food served to residents. If your prospect is following a particular diet, it's the perfect opportunity to show him that your community is ready to serve healthy and nutritious meals as needed. Make sure to tailor this experience (as well as any on-site tour experience) to the needs of your prospect. A senior living CRM can be a great reference tool here to dig through information you've gathered on the prospect during the initial sales process.
Join in on a Leisure Activity
Another great way for the prospect to form a connection with the existing residents and with your community is to have them join in (or simply witness) one of the leisure activities going on that day. Let them see the different leisure activities that keep residents active and happy. Why not invite your prospect to join an activity that you know he/she likes or is looking for based on the information you obtained during the sales process. If he/she enjoys the activity, it's a plus in favor of a move-in.
Two Common Mistakes to Avoid
The Caring.com survey results also showed two things that a community sales director should take note of when it comes to giving tours. First, prospects could feel whether you are just after the sales or you truly care about meeting their needs.
Don't be too salesy. According to the study 20% of prospects who completed a tour thought that it was obviously just about the sales pitch.
Remember to follow up afterwards. According to the study 18% of prospects said they never heard again from the community after the tour.
Second, don't forget to follow-up prospects after giving them a tour. This is a mistake that is likely caused by a lack of an efficient sales CRM and marketing automation tools. This is one of the easiest things you can do to let them prospect know you appreciated them coming in and also to follow up with additional info and next steps.
In summary, if you want an effective way to increase your move-in rate try focusing on giving the best on-site tours possible. If you tailor the experience to your prospect, give them a sense of belonging and comfort with your community, and don't make the classic sales mistakes from the study, you'll be in great shape and miles ahead of the competition.
To learn more about increasing your move-in rate and decreasing your time to move-in click the button below to schedule a free 15 minute consultation. Our staff can provide a screen share with examples of how we've decreased the average move-in time at other communities.